ACIR American Communications INFORMATION Researchers Company Type
Private limited with Share Capital
Company Status
Active – Accounts Filed
Incorporated On
26 June 2008
Nature of business (SIC)
82990 Other business support service activities N.E.C. –
Accounts
Available to 30 Jun 2018. Next accounts due by 30 Mar 2020
ACO Data Base Archive Companies Online Information Data Base
American Communications Online Trusted Business Trade Association
ACO CLUB
Theresa J Morris
ACO Association Trade Association Brand
Ascension.Center is 1 words Branding or compound word for our Main Headquarters as a virtual building. We own the Domain.
WORDWIDE WEBINARS Organization is FOR ALLIED COMMAND ORGANIZATION LIBRARY TRAINING ON THE INTERNET for AMERICAN COMMUNICATIONS ONLINE ACO Association –
Agent is TJ Morris Agency for Advanced Communications Agency.
American Communications Online is the Holding Company for all DOMAINS paid for by Theresa J Morris Ministries. Ascension Center Oracle is for members of ACO CLUB – with Theresa J Morris as Agent
Conserve observe and protect aco era cop.
American Communications Online – ACO CLUB – ACIR Conserve-Observe- Protect
Archivists & Historians of our Legacy, Art, Culture, Education, Legends, Myths, and History = Advanced Communications FOR SCIENCE, TECHNOLOGY, ENGINEERING, and MATH we call the STEM Program.
We would like to encourage my granddaughter Kali Smith into the STEM Program. See how that works out for me in the future with A.I. technology, TJ Morris ET Radio and free will. We can learn from change and that change is constant in the universe. We share communication among peers. The only person we can change is ourselves. Let's work together in broadcast communications of educational entertainment online.
TJ Morris dba ACIR – ACO American Communications Online
Theresa J Morris Ministries of Ascension Community Education (ACE) Adults Continuing Education Online with Ascension Psychic Awakening Classes as Psychic University.
MISSION: Conserve, Observe, Protect – ACO American Communications Online
Veteran Owner is a woman assisting small businesses in spiritual growth education and information disclosure.
ADVANCED COMMUNICATIONS ONLINE
AMERICAN COMMUNICATIONS ONLINE
ALLIED COMMAND ORGANIZATION
ACE VETERAN AUXILARY Historians, Journalists, Reporters, Writers, Peer Reviews
ACE FOLKLIFE SOCIETY
MAN-MYTH=LEGEND
Anthropology-Archaeology-History-Science
Ancient Cultures Origin
UFO LORE KEEPERS – Archivists, Researchers
ACE METAPHYSICAL INSTITUTE
KNOWING COSMOLOGY
TJ Morris ET Radio SHOWS ARCHIVES.
Advanced ACO Association, UFO Association Organization by American Communications Online
American Communications Online – Resource
Theresa J Morris – Lead Investigator & Librarian
Jan Aldrich – Lead Historian & Archivist in USA.
Thomas R Becker – ACO Club General Manager
Advanced Communications Agency
ACO CLUB Administration Management Company
Advanced Communications Agency – Business to Business Trade Directory
ACE Metaphysical Institute – WORD to Worldwide Science Organization
Ascension Center Education – Ascension Center Ohana ET Science Organization
Ascension Age Lightworker's Guide – Health & Wellness Integrative Medicine Directory
ACO Association with UFO Association for sharing knowledge of this project. TJTM – ACIR
ACO American Communications Online – Professional Trade Association Building Community with TJ Morris. Share Allied Command Organization in our Universal Life Ascension.Center Electronic Digital Information publishing and content provider Company. The following data will be completed within 24 business hours:
Company Name
DBA / Tradestyle
Phone Number
Business Address
Business Structure / Legal Structure
Company Website
Number of Employees
SIC / NAICS
Year Business Started
CEO, Owners, Officers, Directors, Managers
Other updates may take longer due to validation and verification, for example:
Banking & Financial Information:ACO Association collects, preserves and promotes electronic resources which result from research and teaching in the arts and humanities, as well as Sciences. ACE Folklife and ACE Metaphysical Institute founder Theresa J Thurmond Morris pays for the cost to keep our links up on the American Communications Online and TJ Morris Agency accounts.
By preserving collections made in the arts and the humanities, the ACO Association, Ascension.Center encouraged research and educational use of its collections and made information about them available through online catalogues.
The identification and promotion of shared standards was critical to the ACO Association and UFO Association's work. Preserving and exchanging digital information relies upon their widespread adoption and so did a more integrated approach to resource discovery which may have helped our users to find the resources they required irrespective of where they are located or how they are stored.
We rely on donations and volunteers in our American Communications Online Community. We do this for educational information sharing online among our American Culture International Relations Archivists Libraries and Data Bases.
Please click on one of the letters below, or use the CTRL+F button on your browser to locate the term you want
a | b | c | d | e | f | g | h | i | j | k | l | m | n | o | p | q | r | s | t | u | v | w | x | y | z
A
B
C
D
E
F
G
H
I
J
L
M
N
O
P
R
S
T
U
V
W
X
Z
UFO – SOHP
Sign Oral History Project
In May 1999, Sign Historical Group(SHG) researchers, writers, and historians convened a foundational workshop in Chicago to discuss the state of affairs, and application of historical methods to the sometimes sketchy, often misinterpreted and always-incomplete history of the UFO phenomenon. One area lacking preservation was the archiving of spoken memories and personal commentaries of historical significance through recorded interviews.
Many individuals who have personal knowledge of some aspect of UFO history, whether witnesses, government officials and personnel, scientists and investigators, or individuals involved in the social aspects of the phenomenon, have never been interviewed concerning perspectives only they can provide. We therefore initiated the Sign Oral History Project to preserve significant historical information and ultimately make it available for scholarly study.
What are UFOs? The truth being after seventy years we still have no idea. Historian David Jacobs observes, "It is difficult to name another subject so quickly identifiable, so widely debated, so easily dismissed, and yet so little understood." Why is that?For one reason, the UFO issue has never received an objective, systematic scientific study. Professors Wendt and Duvall note in our current state, "the UFO can be 'known' only by not asking what it is." This disregard of UFOs goes further to active denial of their object status. To that extent "one may speak of a 'UFO taboo,' a prohibition in the authoritative public sphere on taking UFOs seriously."
It is also true after seventy years the UFO phenomenon has a robust history that pervades post-war American culture. What we can know about UFOs is the experiential phenomenon, and based on available sources, its effect within the Air Force and intelligence agencies from 1946-1969, including official responses and the attitudes that have shaped the issue. For a very concise history, see: Thomas Tulien, "History of the United States Air Force UFO Programs."
Credit goes to Jan Aldrich on 7-25-2019 for sharing his knowledge of this project. TJTM – ACIR
Source: http://sohp.us/index.php
ACO RADIO
Theresa J Morris
ACO CLUB Members Only!
American Communications Online
TJ Morris ET Radio Station Brand
TJ Morris Agency-Media, News, Publishing
ACO Association (850) 376-9100 or (850) 736-5138
You Tube Channel American Communications Online
TJMorrisAgency@gmail.com Theresa J. Morris at dial (850) 376-9100 or (850) 736-5138 and destroy the original
ALLIED COMMAND ORGANIZATION
A Department of American Communications Online
ET Science, Space, Advanced Communications Agency
ACE-ACO-ACIR Archivists, Historians, Researchers Digital Oral LIBRARY
Allied Command International Relations- American Communications Internet Researchers
Portal Stargate Mystics enjoy reaching out, learning new things and hearing new perspectives. They trust in the universe's plan and see their journey as one of understanding, not preaching. Panels Formed by TJ and Janet on topics for each week in metaphysics and Cosmology. GM is Thomas R Becker for ACO Association, American Communications Online. We also manage UFO Association Organization Projects.
ACO Club Teams manage projects together and develop IT monitoring and management software to be effective, accessible and easy to us. Our focus on broadcast management and producing on the internet has allowed us to share our combined experiences using technology.
This is why we have formed our ACO Trade Association of professionals and have made a commitment to net neutrality and freedom of speech with our commitment to excellence in end-to-end hybrid IT performance management for our clients, customers, volunteers, friends, and listeners.
NOTICE TO KEEP ON WEBSITES;
ACO Club Citizens Conscious Community Chats on Information Disclosure Freedom of the Press- Freedoms Lips International Disclosure – Revolution Radios Organization – Creative Divine Essence we call Life! Live & Let Live and A.I.
ALLIED COMMAND ORGANIZATION
– June 26, 2019 – admin
Department of American Communications Online
American Veterans Volunteers Project for Disclosure – Archivists-Historians – Authors-Artists-Documentarians
ACO PRESS – AMIGA – AMIGO ART Etiquette Policy for
American Communications Online
Portal Stargate Mystics enjoy reaching out, learning new things and hearing new perspectives. They trust in the universe's plan and see their journey as one of understanding, not preaching. Panels Formed by TJ and Janet on topics for each week in metaphysics and Cosmology. GM is Thomas R Becker for ACO Association, American Communications Online. We also manage UFO Association Organization Projects.
ACO Club Teams manage projects together and develop IT monitoring and management software to be effective, accessible and easy to us. Our focus on broadcast management and producing on the internet has allowed us to share our combined experiences using technology.
This is why we have formed our ACO Trade Association of professionals and have made a commitment to net neutrality and freedom of speech with our commitment to excellence in end-to-end hybrid IT performance management for our clients, customers, volunteers, friends, and listeners.
We are the co-creators of our future and as members of our Alliance have co-created a group of friends who share in cyberspace our ACO Club Art Etiquette Policy.
TJ Morris Radio
ACO Association Etiquette Policy
ACO CLUB/American Communications Online/Allied Command Organization
ACO ACE Metaphysical Institute Graphic Artist (AMIGA Art School)
Introduction
ACO is an expansive, worldwide community of truthseekers who support spiritual science metaphysicians and philosophers as creationists interested in futurology and science. We support consciousness, and the soul as a major part of life as a humanoid being. ACO Club, American Communications Online, ACO Association, and Allied Command Organization are all part of our alliance in promoting space advocacy in our arts and science peer review journals and our trade associations.
ACO Club is for members only. ACO Association is our voting members who share in co-creations as supporters of visual and performing arts, and integrative medicine practitioners. We share as journalists, writers, authors, engineers, scientists, and promote the STEM Program in our arts and science journals. We share American Communications Online and the TJ Morris Agency for our administration online for our websites, and our social media presence.
Some are interested in the high strangeness of the unexplained nature of what we are all aware of as the truth of our beginning or the origin of everything. Some call this as one beginning and God.
Artists of visual and performing artists, authors, practitioners, speakers, and teachers are chosen to become members in our ACO Club. Most must be known for some purpose in their own life. We share the "YOU" in you of "Philosophy of Learning about Spirit Essence" and the meaning of life.
We come from all walks of life and agree that life can be situational based on one's own point of origin. We ascribe to the highest standards with morals and integrity while we embark on conversations together in broadcast media. We share in visual and performing arts as advocates and sometime sponsor art shows in events.
We support every age, and every nationality who create works spanning every medium, every subject and every level of talent and skill. However, since we prefer to work with those who are of legal adult age in the cyberspace normal, we ask that our members be at least 18 years of age and graduated high school or have a General Equivalency Diploma. This is to satisfy the normal requirement to have an educational normal way of being in this world. Then we can finish being involved in the social involvement of getting priorities straight on our own soul purpose of life while we have a physical body. We will assist anyone in obtaining their level of education as an adult in our adults continuing education programs in all states and help with educational information for all our members.
As the guiding force of this large and vibrant community we have two primary and often conflicting goals in the service we provide for you, the members of the community; the first being to ensure that members are free to express themselves within reason with as few restrictions as possible while nurturing an environment of creativity, learning, and talent and the second is to protect the members of the community, to the best of our abilities, from infringement of copyright, discrimination, harassment, and prejudice.
All members of the ACO community are expected to be familiar with these rules of etiquette and they will be enforced evenly and without bias in every situation which is brought to the attention of the administration regardless of the membership status of the user in question.
Guidelines for ACOnauts; Allied Command Organization Members List:
Theresa J Morris ~ Founder
TJ Morris Agency ~ Agent
Thomas R Becker ~General Manager
Ken R Johnston Sr. ~ Fleet Commander
ACO Club Members
ACO Association
UFO Association
Advanced Communications Agency
American Communications Online
Quality and Placement
It is our policy to welcome artists and authors of all levels from amateur to professional and to that end we do not attach any minimum standards of quality to deviations submitted by our membership; all manner of artworks is welcome providing they meet with our etiquette and copyright policies. While we do not impose quality standards, we do ask that you practice self-moderation in what you choose to submit and that you submit your works into the most appropriate gallery. While we encourage the submission of only your very best works, we have provided an area for those submissions which may fall short of that 'top quality' mark; this is your "Scrapbook" gallery and we highly encourage its use.
We share an archive for members only who pay a minimum of $5.00 a month to participate in updating their own page of art or archiving in our ACO CLUB/ACO American Communications Online/ACO Association/Allied Command Organization.
Our community volunteers may elect to move one or more of your ACO Club/ ACO Association/ ACO American Communications Online/ Allied Command Organizations Art creations from the Gallery categories into a different, more appropriate, section or into the Scrapbook category; we ask that you accept this decision gracefully and with a mature attitude. If you desire a full explanation for this action, or if you feel the administrative action was performed in error, you should submit an inquiry to the official ACO Art Helpdesk and include a link to the relevant issue at hand. Please do not bring these issues into the Forums, user pages, or other areas of our ACO American Communications Online/ ACO Association/ Allied Command Organization domains or websites.
Prohibited Commentary
Prohibited commentary is typically considered to be inherently disrespectful, aggressive, or otherwise abusive.
We must insist that you refrain from comments which are racist, bigoted, or which otherwise offensively target a political concern, a person's philosophy or religion.
In addition, we ask that our members avoid making offensive remarks based on gender or sexual preference and that you do not make any remark, comment or critique which is intended to be a direct insult to an individual, group, or genre of artwork. Hate propaganda is met with zero tolerance. Comments which are overly aggressive, personally insulting or needlessly abusive are also prohibited.
If you feel that you have been the target of harassment, personal insults or other severe behavior please notify the staff by using the official ACO Club/ ACO Association/American Communications Online/ Allied Command Organization or ACE Folklife Art helpdesk. Please be aware that the staff will only directly intervene in cases which are considered severe; minor situations may be dealt with using tools made available to all registered members.
Discouraged Commentary
Discouraged commentary is typically considered to have the potential to escalate into an aggressive or abusive situation.
While not strictly prohibited we must insist that all personal arguments, disagreements, and other volatile "personal" issues within be confined to private communications such as Notes, emails, or Instant Messaging programs. Likewise, we discourage public accusations and other similar situations; please bring all issues of this nature to the attention of the staff by notifying the official ACO Club Art helpdesk via Skype or Email to TJMorrisET on skype or tjmorrisagency@gmail.com.
Exploitive Commentary
Exploitive commentary is typically considered to be disruptive due to unusual or unique factors.
Do not 'spam' (send large numbers of identical notes or comments). Spamming is obnoxious and is typically used for self-promotion, or other unwanted advertising.
Do not 'flood' (place large numbers of comments rapidly on a single page or craft a single comment which consumes a large amount of page space) the forums, notes system,
userpages or other areas of the site.
Flooding usually disrupts page loading times and serves no useful purpose.
Respect Your Fellow Artists
As a vibrant and growing art community ACO Club/ACO Association/American Communications Online/ ACO /AMIGA Art welcomes all kinds of original artworks; but we MUST insist that the artwork which you submit be your own original works.
Your deviations must be your own original creations and you may only use resources which are considered legitimate and legal. Submissions which make use of works without proper permission or licensing by the original author will be removed as they come to the attention of the staff. This policy applies to all ACO Club Art, AMIGA submissions, Scrapbook entries, and the preview images used for written submissions. Please note that our ACO Brand is for our trusted members of whom we are familiar with and have displayed professionalism as entrepreneurs and in our business etiquette
If you have reason to believe that ACO Club Art submission violates this policy, you should use the official Report Violation link which is available on every submission page.
Mature Content
When we discuss mature content, we are specifically referring to deviations which contain images, subject matter, or other themes which some viewers may find offensive, distasteful, or otherwise undesirable to view or to read. The most common 'undesired' viewing material may include, but is not limited to, images containing artistic nudity (see details below), large amounts of simulated blood and gore, or generally violent themes.
ACO CLUB/ ACO Association/ American Communications Online/Allied Command Organization all groups, associations, and organizations strictly prohibit the submission of materials classified as pornographic or obscene. There is no exception to this prohibition.
Certain content may be deemed obscene by the administration and as such the staff reserves the right to remove such content immediately upon discovery. The administration reserves the sole right to review and classify questionable material as obscene or not obscene.
Model release forms
The ACO CLUB/ACO Association/American Communications Online administrative staff reserves the right to demand a Model Release form be provided for any photography (nude or otherwise) located within either your Gallery or Scrapbook areas. If you receive such a request an appropriate link will be included in the notification you received. Failure to properly respond to a Model Release form demand within seven (7) days will result in the automatic removal of the associated photograph. We are compliant with all rules of the states in the United States of America.
For your own protection it is highly recommended that you have any model who poses for you sign a release form giving you the explicit permission to publish, share, distribute, and otherwise display the associated images. It is highly recommended that you provide this form immediately after submitting your photograph, especially if your subject is depicted nude.
Underage models
We cannot allow any nude works featuring individuals under the age of 18, nor may the works depict these individuals in a 'sexually driven' manner such as posing in lingerie or displaying a sexually suggestive or provocative pose.
This prohibition is for legal reasons; the laws in the United States are the governing laws regarding all submissions regardless of the country of origin. Photographs which are suspected of depicting a minor in this manner will be temporarily suspended from public view and proper legal documentation (as outlined above) will be demanded while photographs which clearly depict a minor (including toddlers, preteens, and teenagers) in this manner will be removed without notice.
Submissions of a non- photographic nature which clearly depict a minor, fictional character or otherwise, either nude or in a sexually driven manner will be removed and deleted without notice as they come to the attention of the staff.
Forum Posting
In addition to the outlines in the above section entitled Prohibited Commentary and Exploitive Commentary we have a few additional policies regarding comments and posts within the Forum areas of ACO CLUB Art; ACO Association.com.
All threads started within a specific forum and all comments within those threads should be relevant to the forums Title. This means that, for example, all threads within the Movies forum must relate to a motion picture and the comments within those threads should also remain on the appropriate topic.
We encourage interactivity and we allow comments to be either positive or negative in nature providing that they remain constructive and promote a worthwhile dialogue.
We insist that forum threads adhere to the same standard set forth for deviation, scrapbook, and writing submissions in terms of what is considered acceptable subject matter (i.e. no racist threads, no sexual discussions, etc.).
It is important to remember to be as clear in your intent as possible while communicating on the internet. Text communications do not afford a clear representation of sarcasm. Please use common sense when posting to avoid confusion. Threads which are misplaced, which contain inappropriate subject matter (such as sexual discussions), or which contain an undesirable number of insults or other violations of this etiquette policy will be locked and closed to further commentary.
Avatars
This section applies only to avatars which you personally use for your account; avatars submitted into a Gallery or to your Scrapbook must still conform to all official policies without exception but are not subjected to the restrictions below.
Avatars used to represent your account on site are granted more leniency than standard site submissions. You may freely use material and resources with only the restrictions outlined as follows;
Your avatar should not contain nudity of any sort.
You may not use avatars specifically created by other users without their explicit permission.
If your avatar contains a portion of a work made by another artist, it will be removed by staff at the request of the original artist.
In all other respects your avatar must conform to the guidelines set above regarding hate propaganda.
Exploits, Vulnerabilities, and Site Abuse
The ACO Club staff will not tolerate attempts to exploit or disrupt the layout, navigability, or general use of the site. Such actions disrupt the ability of the community to access and review artwork and are considered Site Abuse.
We will issue no warnings for violations of this nature. Violators will be banned immediately upon the discovery of the disruption or abuse.
POINTS may not be used to circumvent or interfere with the operations and cannot be used as payment for automated services affecting a member's statistical or performance-based metrics.
Groups
All the rules and guidelines of this ACO Etiquette Policy apply to activities within a Group or in the management and administration of a Group. All the policies with respect to content and commentary apply within Groups and any member or watcher of a Group should feel comfortable reporting any activity to which they object based on this Etiquette Policy or otherwise. We are not responsible for the conduct of all ACO Group participants or administrators. However, the Group applications permit us to take appropriate action should intervention become necessary as a result of a violation of the Terms of Service in general or of any other of our policies.
Keep in mind that Group administrators may determine their own rules and privileges for deviants who participate in the Group and as a general rule we will not become involved in any disputes between Group members, between Group administrators or between one or another Group unless there is a clear violation of our own policies, rules and terms. We suggest you use good judgment and decency in all your Group interactions as well as exercising the same cautions you would use in any Internet exchanges with individuals who you may not know.
Changes in Etiquette Policy
As new situations come to our attention, we may find it necessary to alter or expand upon the policies stated here with little or no notification and any such changes may be enforced in full against previously existing submissions or behavior. Alterations of policy may be announced through either the Forum or through other Announcements and News Topics.
Appeals and Inquiries
Appeals, inquiries, or questions concerning deviation removals, violation notices, account suspensions, or other administrative actions should be addressed to the official where they will be forwarded to the appropriate department for review by our general manager or owner.
Petitions and other forms of public outcry are discouraged and will have no effect on Managerial Reviews of staff actions and may in fact be detrimental to the case in question. ACO Association is the creation of ACO Club by TJ Morris ET Radio now also known as TJ Morris Agency and for members in a separate companion's business account as American Communications Online. We as American Communications Online share directorship with various project committees. We have projects which we share in as co-creations as an Advanced Communications Agency with the citizen of the United States a woman veteran named Theresa J Thurmond Morris. Since 2000, Theresa has been known as TJ Morris. We who know Theresa Janette Thurmond Morris have adopted her choices in running her social club as ACO. Under the letter's "A", "C", "O", she has adopted project names and groups into her brands for her friends and members of her ACO Club, ACO Association, American Communications Online, Allied Command Organization. All groups including UFO Secret Space, UFO Association Organization are encouraged to participate in our ART and AUTHORS Book Club.
All Books
New Age Spirituality, Personal Growth, and Shamanism
Ancient Mysteries and the Occult
Holistic Health, Natural Remedies, and Yoga
KEN JOHNSTON SR.
INTRODUCTION TO THE STORY OF KEN JOHNSTON, NASA ARCHIVIST/ WHISTLEBLOWER
Dr. R. Ken Johnston, Sr, was one of 4 Civilian Astronaut Consultant Pilots from the Apollo Moon Program, is a retired aerospace engineer, former active duty US Marine, and "NASA Whistle Blower." He refused to strictly follow orders and destroy a nearly-complete collection of 8″ x 10″ glossy photo-prints from the Apollo program. These photos are not available from NASA at this time and are of a higher resolution than what is found on-line. Johnston was born at Fort Sam Houston US Army Air Corps Base in San Antonio, TX. in1942.
Johnston was hired by Grumman Aircraft Corp. because of his training as a pilot with an avionics background for the Apollo Lunar Module testing. His duty was to assist with cockpit and instrument development and Astronaut training at the Johnson Space Center in Houston, Texas. Ken later worked at the Lunar Receiving Laboratory, where all the moon rocks were stored, cataloged and in some cases, distributed to scientists from around the world. As the Director of the Data and Photo Control Department, he had access to all the original lunar pictures, film and slides.
When the lunar sample distribution wound down, he was instructed to destroy what remained of the photo archive, but Johnston kept one set as a personal collection for a work portfolio. This personal portfolio became known as "Ken's Archive" and has been used by researchers from around the world to help them discover evidence of ET presence, past and present on the Moon.
———————————————————————————————————————————————-
KEN'S MOON, MULTI-BOOK PROJECT – KEN'S AUTOBIOGRAPHY, MISSION REPORTS, AND ARCHIVE WERE DONATED TO THE ROSWELL "INTERNATIONAL UFO MUSEUM" in JULY 2016.
———————————————————————————————————————————————-
Dr. Johnston's latest works are the documentation of his Metaphysical Journey and contact with ET's since he was only 7 years old. More information about his books and DVD's is available at:

Terms and Conditions
This page contains a sample of the Terms and Conditions for the provision of any work or service that ACO -ACIR instructed to complete including, but not limited to, research projects, software development projects or item of consultancy.
In practice, these terms will be supplied in full to the Theresa J Morris partners, clients and collaborators involved in the work or service, accompanied by a Scheme of Work detailing the deliverables.
For more information on how ACO Club works to complete these services, please visit the pages regarding our development philosophy and rationale.
For terms relating to the use of this website for ACIR
American Culture International Relations
American Communications Online
Please contact the Lead Investigator
Please visit our Etiquette Policy Page.
TERMS & CONDITIONS
The Services
The services supplied under this Agreement to fulfill the attached SoW (the 'Services') are provided by Theresa J Morris's ACO Invisible College ('ACO') and ACIR, acting through one of its academic departments, Allied Command Officers and ACE Metaphysical Institute Digital Information Services as Domains, Webhosting.
ACO and ACIR shall carry out the Services in accordance with Good Industry Practice. 'Good Industry Practice' means standards, practices, methods and procedures conforming to the law and the degree of skill and care, diligence, prudence and foresight that would reasonably and ordinarily be expected from a skilled and experienced person or body engaged in a similar type of undertaking under the same or similar circumstances.
If the Client reasonably believes that the way in which ACO is performing the Services is deficient, it shall notify ACO in writing at the earliest possible opportunity, giving full details of the perceived deficiencies. The parties shall then discuss the matter in good faith to establish where any deficiencies may lie and an appropriate course of action to deal with them, as part of which ACO shall remedy any agreed faults within an agreed, reasonable period generally not exceeding 21 working days. If the parties are unable to agree on a course of action, they shall initiate the dispute resolution process set out in this Agreement.
In the event that ACO is delayed, prevented or hindered from performing any of its obligations in this Agreement by circumstances beyond its reasonable and direct control, ACO shall be excused from that performance for as long as such circumstances reasonably persist, but shall take all reasonable steps to minimize the effects on the performance of this Agreement while sharing the ACO Articles and By-Laws. Should ACO be so delayed, prevented or impeded, it shall promptly inform the Client of the nature of the relevant cause and its likely duration.
Confidentiality & Intellectual Property
Any data, information or materials which the Client supplies to ACO in the course of this Agreement shall represent Confidential Information and/or Background IP (as defined below) belonging to the Client by ACIR. ACO shall keep confidential all information supplied to it by the Client in connection with the Services ('Confidential Information'), and shall not disclose Confidential Information to third parties or members of its staff or students outside the team performing the Services without the Client's prior written consent; where consent is granted, ACO shall only disclose Confidential Information under legally-binding confidentiality agreements on terms no less onerous than those in this Agreement The obligations of confidentiality herein shall survive expiry or termination of this Agreement by 5 years and shall not apply to information which ACO can clearly demonstrate by written record: enters the public domain through no fault of ACO; becomes lawfully available to ACO from an unconnected third party under no obligations of confidentiality or with the lawful right to make such a disclosure; has been independently developed or conceived for or by ACO without reference to the ACO Association – ACIR Client 's Confidential Information; or ACO is required to disclose by law or a regulation, in which circumstances it shall wherever practicable give reasonable advance notice of the intended disclosure to the Client, and the relaxation of the obligations of confidentiality shall apply only for as long as necessary to comply with the relevant law or regulation and solely for the purposes of such compliance.
Nothing in this Agreement shall affect the ownership of intellectual property rights existing prior to this Agreement or generated outside of its scope ('Background IP'). Any developments and/or modifications to Background IP belonging to a party made in the course of carrying out the Services shall be the property of the party owning that Background IP.
Liability
ACO shall not assume liability, including liability for financial reimbursement, towards the Client for any act, omission or default for which it may become liable under the terms of this Agreement to the extent that such liability is the result of an act, omission or default of ACO. The Client shall nevertheless use its reasonable endeavors to mitigate any losses it may incur. Neither party can be liable to the other for any claims or demands arising out of this Agreement for loss of income, profits, turnover, business, opportunity, goodwill, economic loss, indirect loss or consequential loss, no matter how arising and whether by breach or by negligence and whether in contract, tort or otherwise. To the maximum extent permitted by law, the terms and conditions in this Agreement are in place of any warranties, obligations or conditions implied by law, trade usage or custom. This clause shall not limit or exclude any liability that may not be limited or excluded in law, such as solely by way of example, liability for death or personal injury.
General
Neither party shall use the other's name, crest, logo or trademarks, or the name of any of its staff or students, nor imply their identity, in connection with this Agreement without the express written permission of that party or individual, except that nothing in this clause shall restrict, delay, impede or prevent a party from using the other party's name when making disclosures under applicable freedom of information legislation or in its own reports or internal literature.
Either party may terminate this Agreement by giving notice in writing to the other party subject to a minimum of 30 working days' notice; ACO will not refund fees on a pro rata basis once its costs and uncancellable commitments have been considered. Termination of this Agreement shall not affect the survival of any clauses or provisions herein which are stated, or which by their nature are intended, to continue after termination or expiry.
This Agreement supersedes and terminates all other agreements, terms, understandings and representations regarding the Services between the parties and constitutes the entire agreement between them concerning the Services. This clause shall not exclude liability for fraudulent representation or concealment made prior to this Agreement coming into force. No failure to exercise or delay in the exercise of any right or remedy which any party may have under this Agreement or in connection with this Agreement shall operate as a waiver that right or remedy.
This Agreement is made and shall be interpreted in accordance with the laws of Santa Rosa County, Florida and The United States. In the event of any difference or dispute arising from this Agreement, the parties will endeavor to settle such matters between themselves in good faith, initially at an operational level, but if this is not successful within 14 days, through their appropriate responsible senior officers. Should the parties be unable to resolve matters within a further period of 25 working days, they shall refer the matter promptly for final, binding resolution using Alternative Dispute Resolution techniques by either ACIR Mediation the Ascension Center for Effective Dispute Resolution if both parties are based in the USA or the International Chamber of Commerce if one of the parties is based outside the USA or UK. The language of any such proceedings shall be English.
Nothing in this Agreement shall confer or purport to confer on any third party any benefit or any right to enforce any term of this Agreement.
Each party shall fully comply with applicable anti-bribery legislation and neither party shall engage in any activity, practice or conduct which would constitute an offence under that legislation.
ACO CLUB uses American Communications Online SQL Databases
ACO Club uses American Communications Online Browser of Choice as Google See terms of service
User Content and Conduct Policy
Google's social and sharing products and services enable people from diverse backgrounds to start conversations, share experiences, collaborate on projects, and form new communities. Our policies play an important role in maintaining a positive experience for our users on the products listed below (collectively referred to as the "Services"). Please follow these policies as you:
use Google+, including Google+ comments on other products such as Blogger
participate in publicly shared Hangouts or Hangouts on Air
send Hangouts invitations
share content by link or print content through Google Photos.
We depend heavily upon users to let us know about content that may violate our policies. After we are notified of a potential policy violation, we may review the content and act, including restricting access to the content, removing the content, refusing to print the content and limiting or terminating a user's access to Google products. Note that we may make exceptions to these policies based on artistic, educational, or documentary considerations, or when there are other substantial benefits to the public from not acting.
We occasionally modify these policies, so please check back here for any updates. Beyond the policies listed below, note that several products and features may have additional policies and terms — please check the links provided for those additional requirements.
1. Illegal Activities
Do not use our Services to engage in illegal activities or to promote activities that are dangerous and illegal, such as the sale of illegal drugs or human trafficking.
We may also remove content that violates applicable local laws. To report content that you believe should be removed based on local laws, click here.
2. Malicious and Deceptive Practices
Do not transmit viruses, malware, or any other malicious or destructive code. Do not distribute content that harms or interferes with the operation of the networks, servers, or other infrastructure of Google or others. Do not use our Services for phishing scams.
3. Hate Speech
Our products are platforms for free expression, but we don't permit hate speech. Hate speech is content that promotes or condones violence against or has the primary purpose of inciting hatred against an individual or group on the basis of their race or ethnic origin, religion, disability, age, nationality, veteran status, sexual orientation, gender, gender identity, or any other characteristic that is associated with systemic discrimination or marginalization.
4. Harassment, Bullying, and Threats
Do not engage in harassing, bullying, or threatening behavior, and do not incite others to engage in these activities. Anyone using our Services to single someone out for malicious abuse, to threaten someone with serious harm, to sexualize a person in an unwanted way, or to harass in other ways may have the offending content removed or be permanently banned from using the Services. In emergency situations, we may escalate imminent threats of serious harm to law enforcement. Keep in mind that online harassment is also illegal in many places and can have serious offline consequences for both the harasser and the victim.
Learn more about additional steps that you can take to stop harassment and bullying on Google+.
5. Personal and Confidential Information
Do not distribute other people's personal and confidential information, such as credit card numbers, confidential national ID numbers, or account passwords, without their permission. Do not post or distribute images or videos of minors without the necessary consent from their legal representatives. Report a violation
6. Child Exploitation
Do not upload or share content that exploits or abuses children. This includes all child sexual abuse imagery (even cartoon images) and all content that presents children in a sexual manner. We will remove such content and take appropriate action, which may include disabling accounts and reporting to the National Center for Missing & Exploited Children (NCMEC) and law enforcement. Note that this policy may additionally apply to any content uploaded or transmitted through our Services.
If you find any content that you think exploits children in this manner, do not +1, reshare or comment on such content, even if your intent is to bring it to Google's attention. Instead, flag the content through the 'Report Abuse' link. If you find content elsewhere on the internet, please contact NCMEC directly.
7. Spam
Do not spam, including by sending unwanted promotional or commercial content, or unwanted or mass solicitation.
Do not aggressively send invitations, add people to your circles, or message people that you do not know.
8. Ranking Manipulation
Do not manipulate ranking or relevancy using techniques like repetitive or misleading keywords or metadata.
9. Sexually Explicit Material
Do not distribute sexually explicit or pornographic material. Do not drive traffic to commercial pornography sites.
We do allow naturalistic and documentary depictions of nudity (such as an image of a breastfeeding infant), as well as depictions of nudity that serve a clear educational, scientific, or artistic purpose.
Note that your Google+ profile photo cannot include mature or offensive content. For example, do not use a photo that is a close-up of a person's buttocks or cleavage.
10. Violence
It's not okay to post violent or gory content that's primarily intended to be shocking, sensational, or gratuitous. If posting graphic content in a news, documentary, scientific, or artistic context, please be mindful to provide enough information to help people understand what's going on. In some cases, content may be so violent or shocking that no amount of context will allow that content to remain on our platforms. Lastly, don't encourage others to commit specific acts of violence.
11. Regulated Goods and Services
Our Services enable discussion of many topics, but we do not allow content that facilitates the sale of regulated products and services, including alcohol, gambling, pharmaceuticals and unapproved supplements, tobacco, fireworks, weapons, or health/medical devices.
Because these topics are often heavily regulated and may not be appropriate for all ages or in all countries, we have created tools on Google+ to help you target your content to users of the appropriate ages in the right markets. If your content promotes regulated goods and services, you are responsible for applying the appropriate age and geographical restrictions for that content where these tools are available. If we receive a complaint that such content is targeting audiences in violation of applicable laws and regulations, we may remove or restrict the offending content or account.
Even with the appropriate age and geographical restrictions in place, we still do not allow the facilitation of the sale of the products listed above.
Learn more about audience settings on Google+.
12. Impersonation and misrepresentation
Do not use our services with the intent to deceive, mislead or confuse users by either impersonating any person or organizations you do not represent, or concealing your ownership or primary purpose. This includes directing content about politics, social issues, or matters of public concern to users in a country other than your own, if you misrepresent or intentionally conceal your country of origin or other material details about yourself. We're not saying you can't publish parody, satire or use a pseudonym/pen name – just avoid content that is likely to mislead readers about your identity.
Learn more about Impersonation on Google+.
13. Account Hijacking
Do not access another user's account without their permission.
14. Use of Multiple Accounts
Do not create or use multiple accounts to evade our policies or bypass blocks or otherwise subvert restrictions placed on your account. For example, if you've been blocked by another user or suspended for abuse, don't create a replacement account that engages in similar activity.
15. Terrorist Content
We do not permit terrorist organizations to use Google+ for any purpose, including recruitment. Google+ also strictly prohibits content related to terrorism, such as content that promotes terrorist acts, incites violence, or celebrates terrorist attacks.
If posting content related to terrorism for an educational, documentary, scientific, or artistic purpose, be mindful to provide enough information so viewers understand the context.
About our Policies and Terms
These policies apply generally to the content you post on our Services. Some services have their own separate policies that can be found within those services and apply to your use of them. All Google products and services are governed by their applicable terms of service.
Reporting Potential Issues
If you encounter content or a user that you believe violates the above policies, please report it to us using the "Report Abuse" link (or similarly named link). Learn more about reporting abuse on Google+, Hangouts invitations, and Google Photos.
Executive Summary: Broadcasting
The Equal Employment Opportunity Commission (EEOC) performed a demographics analysis on the broadcasting industry. The industry was defined as Standard Industrial Classification (SIC) major group codes 483 (radio and television) and 484 (cable and other pay television). Major group 483 was further divided by SIC codes 4832 (radio) and 4833 (television). The study focused on demographic changes reflected in EEO-1 reports from large establishments (1,000 or more total employees) during 1995-2000 for four occupational groups: officials and managers, professionals, technicians, and sales workers. The demographic groups examined were women and three race/ethnic minorities: blacks, Hispanics, and Asians. Comparisons were drawn with two sets of occupational data derived from the 1990 Census. The first set included key occupations found in broadcasting, but taken across all industries. The second set included those occupations found within the broadcasting industry. For both sets, the occupations were combined into the four occupational groups described above.
Employees within the industry for the four occupational groups are mostly white. The technician and officials and managers occupational groups are predominantly male. In 2000, males had slim majorities in professional and sales worker jobs.
Minority representation (the three principal groups and "other" minorities) for the large establishments exceeded 1990 Census levels throughout 1995-2000 in three of the four occupational groups. It fluctuated for sales, possibly because this is a relatively small but growing occupational group.
Women's representation during 1995-2000 was generally above 1990 Census levels for one occupational group (officials and managers), below for one group (technicians), and mixed for two (sales workers and professionals). For the latter two occupational groups, women were generally represented in the large establishments above 1990 levels for key occupations within Broadcasting, but below 1990 levels for key occupations across all industries.
For officials and managers, minority representation grew from 14.9% in 1995 to 16.5% in 2000. This was slightly below the high of 16.8% reached in 1998. Women increased their representation from 40.8% to 41.6%. Minority and women representation during this period was consistently above 1990 Census data levels. Blacks were the largest race/ethnic minority group, with representation around 9% from 1998 on.
Minorities made up 22% of professionals in 2000, compared to 17.1% in 1995, and above the 1990 Census comparisons. Women increased their representation from 46.5% to 49.3% during this period, but still slightly lagged their representation in the 1990 Census data for key occupations across all industries.
Minority representation for technicians increased from 23% to 30.6%. Blacks accounted for much of the increase. Representation for women fluctuated and was essentially the same in 2000 as it was in 1995, and below the 1990 Census comparison levels.
For sales workers, minority representation showed uneven growth and had a 2000 level (29.8%) lower than the 1995 level (41.8%). As previously noted, sales may be highly volatile in its demographics because of relatively small size and rapid growth, as well as the small but growing number of large establishments in Broadcasting. These fluctuating levels during 1995-2000 were consistently well above the 1990 Census comparison figures. Women's representation in 2000 stood at 48.6%, compared to 48.9% in 1995, with marked fluctuations during the intervening years. Representation during this period was generally above the 1990 Census level for key occupations within Broadcasting, but consistently below the 1990 Census level for key occupations across all industries.
While demographic patterns for large establishments tend to hold for Broadcasting as a whole, there are relatively few large establishments. In 2000, only three radio establishments out of 547 that filed EEO-1 reports had 500 or more employees. Television and cable, while having more large establishments, are still mostly local operations. The situation is further complicated for cable, which has two sub-industries: programming and wiring. Some of the largest cable firms are involved in both activities with separate divisions, and the data do not make it clear which activity is tied to a specific establishment. Given these circumstances, demographics in the components of the Broadcasting industry were described, but no analysis was attempted on specific establishments.
A brief literature review was conducted to place this study in context with published reports. Most reports in the commercial media are concerned with the portrayal of minorities and women in programming, or the demographics of small-number but highly visible occupations: actors, news anchors, and sportscasters. At least two private organizations have recently-published studies that concentrate on senior-level managers within the industry. The Federal Communications Commission (FCC) at one time collected data similar to that for EEO-1 reports, but that program was discontinued. The most recently-analyzed data (for cable) dates to 1999. The FCC has issued various reports pertaining to employment and ownership of stations within the industry.
Table of Contents
Analysis of Charge Data System Information, 1995 – 2000
Definitions and Data: Broadcasting
Industry Definition for Broadcasting
For the Broadcasting part of this study, the industry was defined as consisting of Radio and Television Broadcasting Stations (SIC Code 483), which includes Radio Broadcasting Stations (4832) and Television Broadcasting Stations (4833); and Cable and Other Pay Television Services (484). The major group includes companies that furnish point-to-point communications services, whether intended to be received aurally or visually; and radio and television broadcasting. This major group also includes establishments primarily engaged in providing paging and beeper services and those engaged in leasing telephone lines or other methods of telephone transmission, such as optical fiber lines and microwave or satellite facilities, and reselling the use of such methods to others. This group does not include establishments primarily engaged in furnishing telephone answering services. The study also excluded Telephone Communications (481); Telegraph and Other Message Communications (482); and Communications Services, not elsewhere classified (489).
Occupational Definitions for Broadcasting
The occupational data from the 1990 Census was contained within the Communications industry group, specifically the Other Communications (Census Industry Code 048) grouping.
Within the Census broadcast industry group, officials and managers were defined as consisting of Financial Managers (Census Occupational Code 007); Managers, Marketing, Advertising and Public Relations (013); Managers and Administrators, not elsewhere classified (022); and Management Related Occupations, n.e.c. (037). The professional occupations were Librarians (164); Authors (183); Technical Writers (184); Actors and Directors (187); Photographers (189); Editors and Reporters (195); and Announcers (198). The technicians consisted of Electrical and Electronics Technicians (213); and Broadcast Equipment Operators (228) and sales workers were in Advertising and Related Sales Occupations (256).
Industry and Occupational Definitions for EEO-1 Data
Establishments with SIC codes 4832, 4833, and 4841, and with 1,000 or more total employees were selected. Data are reported according to the occupational groups described above. Data were taken from annual reports spanning 1995-2000. An annual EEO-1 report is legally required of all private employers who are subject to Title VII of the Civil Rights Act of 1964 (as amended) with 100 or more employees. (Educational and certain other private organizations are excluded, but may have other reporting requirements.) Single-establishment employers file one report. Multiple-establishment employers with 50 or more employees may be require to file if they are part of a larger enterprise or engage in specified federal contracting.
Analysis: Broadcasting
Introduction
Three types of data were used in comparisons represented in the charts:
1990 Census, all industries, key occupations found in Broadcasting; this is labeled 1990 Census (Occupation).
1990 Census, Broadcasting industry (Standard Industrial Classification [SIC] codes 483 and 484), key occupations; this is labeled 1990 Census (Industry/Occupation).
1995-2000 annual EEO-1 reports, Radio/Television/Cable and other pay television (SIC codes 4832, 4833, and 4841, respectively), establishments with 1,000 or more employees; these are labeled [year] EEO-1 (Broadcasting).
The 1990 Census occupations were grouped to correspond to four occupational groups used in the EEO-1 reports: officials and managers, professionals, technicians, and sales workers.
The major race/ethnic groups are black, Hispanic, and Asian. Other minorities combined were less than one percent in any occupational category.
The representation of women and race/ethnic minorities are presented in Figures 1-4. Each figure contains four charts, each corresponding to one of the four occupational groups. Data are expressed as percentages of the data source being presented (e.g., percentage of black officials and managers in the 1990 Census (Occupation) source.) The contents of the figures are as follows:
The number of establishments with 1,000 or more employees grew from 8 in 1995 to 26 in 2000. Broadcasting establishments that filed EEO-1 reports had a total of 149,628 employees in 1995. This number grew to 305,589 in 2000.
For all broadcasting establishments filing EEO-1 reports in 2000, the 26 large establishments had 13% of all the employees. The demographic distribution of the large establishments was generally comparable to the rest of the broadcasting establishments that filed EEO-1 reports.
For the EEO-1 data presented in the charts, a decline in any race/ethnic or sex group generally does not mean a decrease in the number of employees. It means that the group was not growing as fast as other groups to which it is compared.
General
Broadcasting employees in the four occupational groups mentioned above are mostly white. Technicians and official and managers are mostly male (86.6% and 58.4%, respectively) for large establishments in 2000. Males comprised a slim majority in 2000 for professional and sales worker jobs.
Minority representation for the four occupational groups in the large establishments exceeded that for 1990 Census data and continued to grow during 1995-2000 in three of the four occupational groups. Minority representation in sales fluctuated during 1995-2000, possibly because this is the smallest of the four occupational groups being examined and, at the same time, there was considerable employment growth. Blacks comprised the largest minority group in the industry and, apart from sales, their representation grew during 1995-2000.
Representation for women in the large establishments during 1995-2000 was above that in the 1990 Census data for officials and managers, with a high of 41.6% in 2000. Women's representation among technicians was generally below the 1990 Census level during 1995-2000 (under 14% for four of the six years) for the large establishments. Representation during 1995- 2000 in sales and professionals was generally above the 1990 figures for key occupations within Broadcasting, but generally below the 1990 levels for key occupations across all industries (53.8% and 69.2%, respectively).
Officials and Managers
Minority representation for large establishments was 16.5% in 2000, above the 1990 Census levels. Representation for minority groups fluctuated for large establishments during 1995-2000 but always remained above 1990 Census levels. Representation for women was also consistently above 1990 Census levels.
Professionals
Minority representation in the large establishments was above 1990 Census levels and consistently grew during 1995-2000 to 22%. Black and Asian representation grew during this period. Hispanic representation peaked in 1998 at 5.7% and declined slightly in 1999 and 2000. Women's representation grew throughout the period to 49.3% for the large establishments, although it remained slightly below the 1990 Census level for key occupations across all industries.
Technicians
Both the 1990 Census data and the EEO-1 data for large establishments establish this as an occupational group with high minority representation. The 1990 Census levels were slightly under 20%. The 2000 EEO-1 level was slightly above 30%. Blacks and Hispanics increased their representation in the large establishments during 1995-2000. Asians increased their representation slightly, but peaked in 1997 at 3.5%. Asian representation in the large establishments was below their 1990 Census representation of 5.5% in key occupations across all industries.
This is also the occupational group with the lowest representation for women. Across the 1990 Census and EEO-1 1995-2000 data, representation for women is generally 15% or lower. Women were 15.7% of the technicians in the 1999 EEO-1 data for large establishments. That figure fell to 13.4% in 2000. At the same time, minority representation increased by three percentage points. These fluctuations may be due to the overall increase in employees in the large establishments, from 15,952 (22 establishments) to 18,214 (26 establishments) over one year.
Sales Workers
As already noted, this occupational group is relatively small but growing within an industry that was growing overall. Minority representation for the large establishments during 1995-2000 was well above 1990 Census levels, around 40% in some years. Blacks, Hispanics, and Asians were all above their 1990 Census levels, although representation fluctuated during 1995-2000.
Representation for women in the large establishments started and ended during this period at just under 49%, with sharp fluctuations. Representation in the large establishments was generally above the 1990 Census level for key occupations in Broadcasting. However, representation was consistently below that for 1990 Census data for key occupations across all industries (51.7%).
Figure 1. Census (1990) and EEO-1 (1995) Representation by Race/Ethnic Minority
Figure 2. Census (1990) and EEO-1 (1995) Representation by Sex
Figure 3. EEO-1 (1995-2000) Representation by Race/Ethnic Minority
Figure 4. EEO-1 (1995-2000) Representation by Sex
Industry Composition: Broadcasting
This section provides further detail on the composition of this industry by sub-sector and firm size. This information is consistent with other characteristics and differences related to employment by establishments in radio broadcasting, in television broadcasting and in cable. Because the differences outweigh the similarities, EEOC cannot make refined statistical comparisons at this time.
With few exceptions, the activities that comprise the broadcast industry do not overlap with each other in terms of employment opportunities and labor markets. Broadcasters outside major metropolitan areas do not, other than local news, sports and weather, actually produce the material they transmit. In many instances, station employees simply replay material obtained from non-staff sources. While such firms may be more visible to the public because of their broadcast activity, their employment practices cannot be analyzed in great detail.
Based on EEO-1 data for 2000, 547 radio stations filed annual reports. Only seventeen, or only three percent, employed more than 250 persons. Only three stations employed 500 or more. Most employees were either in professional occupations (primarily announcers) or in sales, selling air- time.
Of the 753 television establishments, only 46, or six percent, employed more than 250 persons. The six stations employing 1,000 or more persons were either part of media giants or a large educational network Much station content is either independently produced or originates from the handful of largest establishments. Consequently the opportunity for employment and advancement in the occupations under review is limited to the handful of firms operating at that level.
The cable services section is similar, in that only a minuscule number across the country employ 1,000 or more persons. Most of those establishments are branches of a small number of media giants. This segment of broadcasting is distinguished by the higher proportion of technicians, and fewer professional workers. Accordingly, employment is more likely to be at the local labor market level. No further analysis of cable broadcasters has been done at this time.
A further issue with cable is that it includes establishments that are engaged in programming, and others that are concerned with delivering programming to consumers. In some cases a large firm will have divisions engaged in each activity. The SIC classification does not distinguish between the two.
Analysis of Charge Data System Information, 1995 – 2000: Broadcasting
Methodology
The Charge Data System (CDS) contains information on the bases and issues involved in discrimination charges filed with the EEOC or state and local agencies. Data for SIC 483 and 484 were obtained and edited for the analysis. Frequency counts were taken for new charges by year for the primary basis and issue combinations listed in the CDS. The charts provide a summary of the most frequently cited primary issue/basis combinations by SIC code.
Findings
Within SIC code 483 (Radio and Television), the largest number of charges concern discharge and constructive discharge of women (Figure 5). Also of note are sexual and other harassment and demotion charges filed by females. The trend for all of these types of charges is either steady in number or declining for the period under study.
For SIC code 484 (Cable and Pay Television), the total number of charges has increased dramatically between 1995 and 2000 (Figure 5). A possible reason for the increase in the number of charges across this SIC code is the general expansion within the cable industry to include telephone and internet services as well as traditional cable television services. The most common issue/basis combination for the Cable and Pay Television sub-industry is "race black" discharges. Women also filed a large number of charges over this time period, although no particular issue stands out. Otherwise, the distribution of charges by basis and issue is fairly even across this SIC code.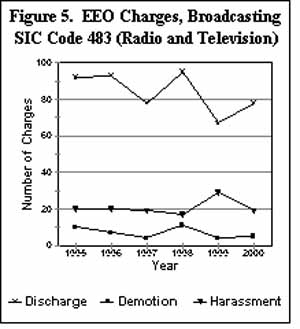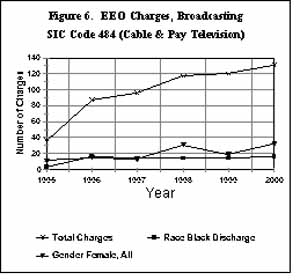 Literature Review: Broadcasting
The EEOC conducted a brief review of the literature regarding equal employment opportunity issues in the broadcasting industry. A number of articles were found, but most dealt with who is seen in programming: how demographic groups are portrayed in programs, if they are visible at all; or the demographics of highly visible commentators, such as news program anchors and sportscasters.
The Federal Communications Commission (FCC) had, until 1999, required that establishments of five or more employees report employee demographics in a way similar to EEO-1 data.
The National Association of Minorities in Communications (NAMIC) published a study in 1999, A Look Towards Advancement: Minority Employment in Cable. The study indicated that minorities constituted 16.5% of the officials and managers occupational group reported by the FCC in 1997. (The figure for large establishments in this report for 1997 is 16.1%.) However, the report indicated that a NAMIC survey found only 5% minority representation for uppermost management categories (Senior Vice President to Chief Executive Officer). The study also explored employee perceptions of factors that helped or hindered career advancement.
The Annenberg Public Policy Center of the University of Pennsylvania issued a report in 2001, Progress or No Room at the Top? The Role of Women in Telecommunications, Broadcast, Cable and E-Companies, indicating that women accounted for only 9% of the board members and 13% of the top executives in communications companies. The types of firms included telecommunications (e.g., cellular telephones) and print media as well as broadcasting. In 2002 the Center published The Glass Ceiling in the Executive Suite: The 2nd Annual AAPC Analyses of Women Leaders in Communication Companies.This study identifies major firms by sub-industry and provides statistics on their women board members and executives.
---
This page was last modified on September 25, 2003.

Meet the Team
Write something about the people who make your business go or your philosophy behind customer service.
Why? Because people want to know who they're doing business with. It's a human thing.
Thomas R Becker
Founder & CEO – Amad Painter.US
ACO Press Club – https://tjmorrisagency.com
American Communications Online – Vice President General Manager
ACO Association – Director – Volunteers – Listener Supported Radio Stations
Include a short bio with an interesting fact about the person.
Theresa J Morris CFO – American Communications Online – Director of
ACO ASSOCIATION – Ascension Center Organization
Allied Command Organization – CEO/Founder
Portal Stargate Communications on TJ Morris ET Radio Include a short bio with an interesting fact about the person.
Next Steps…
This is should be a prospective customer's number one call to action, e.g., requesting a quote or perusing your product catalog. Call to Action
ACO International Articles & By-Laws
---
CONTACT : +1-850-376-9100 or 850-736-5138 for Further discussion on how we can form an alliance or share our synergy together.
Theresa J Morris is Agent of Service and Director of COmmunications for ACO-ACE-ACIR-TJ Morris Agency – TJ Morris Publishing -ACO Association – UFO Association -Theresa J Morris, Ministries for Ascension Center Organization – Universal Life Soul Foundation. USA 32563.
Tue, Nov 11, 2019 at 1:50 PM
To: Theresa Morris <TJMorrisACIR@gmail.com>, Theresa J Morris <tjmorrisreporter@gmail.com>, Tj Morris <TJMorrisConsultant@gmail.com>, Theresa J Morris <tjmorrisamerican@gmail.com>, Theresa J Morris <tjmorrisagency@gmail.com>
American Communications Online Broadcasting Digital NetworkSpoken Word – Free Speech Community· Digital & Traditional Marketing· Telling your unique story· Branding & Strategy· Copywriting· Events· Books, ebooks, ezines, magazines· Blogs, podcasts, YouTube· …so much more!Fill out the form and one of our experts will be in touch to get the conversation started for your business or brand.We share our ACO Club members who are radio hosts, authors, artists, and I am a member of BMI Broadcast Music Incorporated as a songwriter. I created ACE Folklife Society to begin my life as a journalist, reporter, researcher, writer collecting stories of how people believed in folk stories and made the non-profit ACE Folklife. I also added a Label Ascension Center Psychic Awakening Classes as a book. I began my own imprint in publishing as Timely Manor Books and my mother seeded me as an angel investor $100.00 to put toward our publishing ebooks online. I now call my company American Communications Online. Dr. Alexander Phillip Lessin, Ph.D. Anthropology began sharing his spiritual center in Maui with many of us while I was in Hawaii 1989-1994. I moved in July 1994 to pursue my career at Killeen, Fort Hood, Texas. I met my husband Thomas R Morris in Texas. It was Dr. Lessin who knew of my colleague Dr. Laura Sturgis Ph.D. in psychology who shared in my interest in para- psychology and gave me an office next to hers to teach psychic awakening classes. In 1997 Dr. Lessin married Janet Kira Lessin has they began running the workshops and weekend retreats in California and Hawaii. We share the ACE Metaphysical Institute for counseling and educational entertainment. Janet Kira Lessin has been running my Hawaii – Ascension Psychic Awakening Center Network Domain as http://ascensioncenter.net. I have the domain name http://Ascension.Center. I have TJ Morris Agency and American Communications Online as PayPal accounts. TJMorrisAgency.com and AmericanCommunicationsOnline.com.When I began writing Stories with my husband Thomas R Morris in Kentucky, his sister Deborah K Dockery was also a writer and joined us. Think of the city or town in which you live. You find people belonging to all communities' men and women, rich and poor. Radio plays a very important role in the lives of the people of India. Though there are plenty of rich people and highly developed cities, most of our people are poor and many them cannot read or write. So, the only medium that can really reach them to inform, educate and entertain is the radio. Radio stations especially those run by the government perform a public service duty.I went public on the Internet in 2004. I began writing for various magazines including my own American News Magazine, and American Chronicle, I was asked to write for Dirk Vander Ploeg in Canada who was interested in Fate Magazine and I spoke to the owner a woman who had purchased this from a larger company. We're in this business for the fun, for the people, for the community, and formed TJ Morris ET Radio in 2012 in Kentucky. I now own ACIRRadio.com and CosmosRadio.Online. We share RevolutionRadio.Club with Thomas R Becker and Freedoms Lips Volunteers for public radio open source free speech and network neutrality. Thomas R. Becker, Theresa J Morris, and Janet Kira Lessin have been producing radio talk shows since 2012 together. They have formed ACO Club for American Communications Online and RevolutionRadio.Club for subscribers, supporters, and events.AMERICAN COMMUNICATIONS ONLINEACO RADIO SHOWSSearchPrimary Navigation Menu· CONTACT US· ABOUT US· HOME· ACO ASSOCIATION· ACO CLUB MAGAZINE· ADVANCED COMMUNICATIONS AGENCY· ANCIENT CULTURES ORIGIN MANAGAZINE· TJ MORRIS AGENCY· TJ MORRIS ET RADIO· UFO ASSOCIATION. ORG· ALLIED COMMAND ORGANIZATION LINKS· ACO TRADE ASSOCIATION· ACIR – ACO PRESS CLUB· ACO PRESS CLUB· ACO PRESS CLUBPROJECTSACO CLUB `~ ACO Association – American Communications Online – Allied Command OrganizationBecause we strongly believe in citizen driven journalism. ACO Club – Assurance Trust Brand ACO Community Online. People's Contributions Today's Time – TJ Morris ACO Media News Publishing Agency ~ Professional Journalists (SPJ) – ACO Allied Command Officers for Space Advocacy – Advisory Council Intergalactic Relations (ACIR) Cosmos Connection -Knowing Cosmology-public resources wisely. Sustainability Soul Divine Love for Humanity and Cosmos· ACO ASSOCIATION· ACO NETWORK MEDIA PARTNERS· ALIEN CON ORGANIZATION· ALIEN CONTACT US EXPERIENCERS· ALLIED COMMAND ORGANIZATION· ALIEN HUNTERS ORGANIZATION· AMERICAN COMMUNICATIONS ONLINE· ANCIENT CULTURES ORIGIN· ASCENSION AGE – GO SOUL FIRST· ASCENSION PSYCHIC – TJ MORRIS· AUTHORS BOOK CLUB ORG· COSMOS EXPO· COSMOS RADIOS ORGANIZATION· ERA COP JOURNAL· PORTAL STARGATE· STARGATE CON· THERESA J MORRIS· THERESA J MORRIS MINISTRIES· TJ MORRIS AGENCY· TJ MORRIS ET RADIO SHOWS· TJ MORRIS MEDIA· TJ MORRIS RADIO NETWORK· UAP SCHOOL· UFO ASSOCIATION· UFO SECRET SPACE ADMINISTRATION· ASCENSION CENTER CHURCH· EXPOSURE TO DISCLOSURE· ACO=ACE EVENT PLANNERS· GENERAL MANAGER· THOMAS R BECKER· ACO ETIQUETTE POLICY· ACO – ALLIED COMMAND ORGANIZATION – ACO CLUB· ACO ETIQUETTE POLICY· THERESA J MORRIS BRANDS· THERESA J MORRIS – BIO· ASCENSION.CENTER· THERESA J MORRIS MINISTRIES· ACO CLUB· TERMS OF SERVICE ACO TOS· ACO ASSOCIATION REPORT 2019· ACO REPORT 2019· FOLLOW YOU DREAMS SIR· ACO CLUB· ACO CLUB· ACO BOOK CLUBACO Association Articles & By-Laws – Terms of ServiceHome » ACO Association Articles & By-Laws – Terms of ServiceACO Association Articles & By-Laws – Terms of ServiceHistory of our ACE-ACIR-ACO Institution –American Culture International Relations – ACIR Investigative ReportsACO Archivists – TJ Morris Agency – Investigative Reporters – Researchers.ACO American Communications Online RELEASE FORMBrands: ACO, ACE, ACIR, TJ Morris, Ascension.Center,This form is a general release of liability from all claims, actions, suits, demands, and agreements that ACO American Communications Online projects, publications, Event Managers productions and producers provide.ACO CLUB members are Independent Contractors. Sales Representatives are Independent Contractors. Writers, content providers are independent contractors. We act as volunteers on many projects for our ACO Association of domains, websites, radio show archives, and historical oral archives.TJ Morris ET Radio Shows have been recorded since June 6, 2012 for scholarly, educational and spiritual science purposes.I, ___________________, am a participant in the ____________________project, (hereinafter "project".) I understand that the purpose of the project is to collect audio- and video- tapes and selected related documentary materials (such as photographs, and manuscripts) that may be deposited in the permanent collections of ___________________________________. The deposited documentary materials may be used for scholarly, educational, and other purposes. I understand that the __________________plans to retain the product of my participation as part of its permanent collection and that the materials may be used for exhibition, publication, presentation on the Internet and World Wide Web and successor technologies, and for promotion of the institution and its activities in any mediumI hereby grant to ___________________ownership of the physical property delivered to the institution and the right to use the property that is the product of my participation (for example, my interview, performance, photographs, and written materials) as stated above. By giving permission, I understand that I do not give up any copyright or performance rights that I may hold.I also grant to _____________________my absolute and irrevocable consent for any photograph(s) provided by me or taken of me in the course of my participation in the project to be used, published, and copied by __________________and its assignees in any medium.I agree that ___________________may use my name, video, or photographic image or likeness, statements, performance, and voice reproduction, or any other sound effects without further approval on my part.Location: ________________________________________Even if Filmed Location: __________________________I hereby consent to release my biography, name, talent, my likeness, my image, my voice, and allow all promotions and use for any and all production and documentary production I, the releasor, release the releasee for any and all claims I may have against the releasee up to the date of the signing of this release [relating to or arising from this provided information by me, and about me, or for me relating to my participation and all information I provide in any form as a participant. _____________]./signed/AGREED AND ACCEPTED:Signature ___________________________Dated: _________________________________Email: _____________________________Phone Contact #(Cell)________________________#Home: ___________________________#SKYPE: ______________________________#Fax: ________________________________Address: ____________________________City, State: _____________________________Country, Code: __________________________Return to ACO American Communications Online, TJ Morris Publishing Agency, ACIR. Releases are routinely used by photographers, in film production, by documentary filmmakers, or by radio and music producers.Theresa J Morris, Agent.3406 Green Briar Ct., Apt AGulf Breeze, FL US 32563.Note: This form must be on file by our project agent in order to perform in our events. Each of our ACO Event Managers pays dues to use our management tools, software and event agents, consultants, and organizers along with our own marketing and public relations social media network. We share our ACO Event Managers how to find us and our members as open source websites under our main office headquarters website with Theresa J Morris as Agent, Consultant, Organizer, and Host. https://americancommunicationsonline.comACO Release (1/2017)This form is a general release of liability from all claims, actions, suits, demands, and agreements. ACIR, ACO Investigative Reports, Journalists, and Documentary Teams.Theresa became the wife of Thomas R Morris who is now deceased as of 12-02-15. I Chooses to keep her married name as Morris. Theresa J Thurmond Morris. As Theresa J Morris, her brands are ACIR, ACE, ACO, ACE Folklife, and Ascension Center for Spiritual Science Educational Awareness as written into words for the ACE Metaphysical Institute Ascension Ancient Mystery Schools. ACO Spiritual Science Business Community Networking and ACO – UFO Trade Organization. We share ACO Association and UFO Association as one trade organization for professionals. ACO Association Public Benefit Corporation – ACO Broadcasting Media. Spiritual Educational Entertainment.AOO Club
AssociatesAscension Center Mission Statement – Donations Welcomed and Appreciated.We, the members of the Ascension Center, ascribe to the highest standards of excellence regarding the uplifting of humankind by providing spiritual and educational awareness.Ascension Centers was founded for Spiritual Growth, Education and Continued Research for the Communication of Truth.Services are provided as private and group counseling, study groups, classes, seminars, written publications, audio/visual tapes, and other workshop materials, which is a synthesis of ancient wisdom and new thought teachings and philosophies.ACE Folklife Society and ACE Metaphysical Institute are now a part of the Theresa J Morris Ministries Org and American Communications Online Holding Company.ACO Mission is: Educational Support for Emotional, Mental, Physical, Spiritual Well Being.TJ Morris ET Radio Think Tank –ACO Culture ClubName: ___________________________________________ Age _______ (+ or – approximation) Home address: ____________________________________City/State/Zip: ________________________ Home Phone: ___________________Cell Phone: ________________ E-mail: ______________________________________Secondary address, if you have one: ________________________________________________________IQ Level (state if estimated or actual test): ___________________________________________________Areas of Expertise (minimum of 3): _________________________________________________________Industry Experience (number of years in each and locations): ___________________________________________________________________________________________________________________________________________________________________Education, Degrees, Studies, Location: _______________________________________________________________________________________________________________________________________________List any research you have participated in and at what level: ____________________________________________________________________________________________________________________________________________________________________________________________________________________________________________________________________________________________________________ Areas of Interest, on-going personal studies (list all):________________________________________________________________________________________________________________________________________________________________________________________________________________________________________________________________________________________________________________________________________________________________Tell why you would like to join The TJ Morris ET Radio Online Think Tank: ___________________________________________________________________________________________________________________________________________________________________________________________________________________________________________________________________________________________________________What is the maximum time commitment you have available for thinking? _______________________Please list any time constraint issues or ability to travel issues: _______________________________________________________________________________________________________________________________________________________________________________________________________________ Describe any social activities, community service, and non-profits you have been associated with and what you achieved there (send additional pages if you need more room):__________________________________________________________________________________________________________________________________________________________________________________________________________________________________________________________________________________________________________________________________________________________________________________________________________________________________________________________________________________________________________________________________________What are your personal goals?_____________________________________________________________________________________________________________________________________________________________________________________________________________________________________________________________________How would you describe your psychological profile? _______________________________________________________________________________________________________________________________What personality issues should we be aware of that are unique to you? _________________________________________________________________________________________________________________What would you like to learn from the ACO Think Tank?_____________________________________________________________________________________________________________________________________________________________________________________________________________________________________________________________________What Changes would you like to see in your local city, country, state, province and the world?City or Town: __________________________________________________________________________State, Region or Province: ________________________________________________________________Nation or Country: ________________________________________________________________________________________________________World, Planet, Space Colony, Etc.:We recognize that record keeping of alienology, phenomenology, ufology is a daunting task. Many of our records in our governments have been damaged and/or destroyed. Many individuals who have personal knowledge of some aspect of UFO history, whether witnesses, government officials' personnel, scientists and investigators, or individuals involved in the social aspects of the phenomenon, have never been interviewed concerning perspectives only they can provide. There have been many people who share in research with us as friends who support many projects to preserve significant historical information and ultimately make it available for scholarly study._________________________________________________________MISSION STATEMENT: 'We are a science and spiritual science support community.Our objective is to help humanoid sentient intelligent beings by providing education, life skills, values and a caring environment that will empower them to successfully move into the mainstream of society.The ACO Association is an unincorporated cooperative association of webmasters and communicators online. ACO Club is a virtual professional association with actual presence in the world of communication scholars and practitioners.ACO Association is committed to enabling the effective use of new and evolving technologies to facilitate communication instruction, research and criticism, and to offering a technologically supportive venue for all who study the ways in which humans communicate. While the Association is based in the United States, it is a virtual organization that welcomes participation from academics, professionals' journalists' writers, graphic illustrators, news agents, authors, copywriters' editors, publishers Ail throughout the world.Our peer reviewed journal: https://ACO Association.com Our online speech textbook: www.publicspeakingproject.orgSpiritual telephones. ET Spirit Guides.Avatar Masters are a part of the Ascension Center Oracles. ACOACO Association, UFO Association,Ascension Age Cosmos Divine PlanSynergy in words in cyberspace.ACO AssociationA professional peer review community of individuals interested in universal life living.We are about Getting the Word Out about our members and their co-creations with us in cyberspace.Many of our friends are in social media groups. They enjoy posting their finds in cyberspace. This may be re-posting what they have found in their own lives and share what is newsworthy. We assist in helping their hobbies and interests become known in our peer review journals and on our radio shows.Whether you're a one-person operation — and happy to stay that way – a start-up with huge growth aspirations, or something somewhere in-between, your brand is your business identity and how you will be perceived.This is your opportunity to determine who you are and what you want people to think of you. we are content providers, archivists, historians, researchers, artists, authors, engineers, scientists, archaeologists, anthropologists, and supporters of visual and performing artists.We share health and wellness, integrative medicine, cosmology, and our future together in our support community online. To become a volunteer member for a worthy cause please let us know of your intentions and skills.Our Identification Card can be used for our membership discounts on products and services at events. We have a bi-monthly collector's stories of our members who are writers and graphic designers. We support our members who desire to share in their chosen community as spiritual science cosmology futurists who are growing the expanse together with their species. Regular Annual -Artist-Author -Copywriter-Editor-Writer$5Student-In-Training$2Non-salaried Event Volunteer$2Retired Volunteer Event Planner$2Advertising Community Online includes our friends in our peer review journals which we promote on our radio shows. If you would like to be a member and participate in our future events, please go through the admission process by submitting your resume and or business profile.Brand positioning, like many of these terms, contains the definition right in the term. It's how a company chooses to position itself within a given industry to help it stand apart from the competition. A good brand positioning consists of three basic parts:1. Target audience: Who is the brand for? (Moms, teens, creative types, etc.)2. Benefit: How will the company make the audience's life better? What's in it for them? (Peace of mind, save money, look/feel better, etc.)3. Differentiator: Why choose this brand over others in the industry? (No contracts, advanced technology, superior design, etc.)For example, General Motors has positioned Cadillac as a luxury brand while Chevrolet is an everyday brand. Cadillac's target audience is drivers with a higher household income – people who are looking for a top-quality automobile with all the bells and whistles. Conversely, Chevrolet targets a more middle-class driver, and touts their dependability and ruggedness as selling points.ACO Club Articles, by-laws, ACO CLUBUFO Secret Space ACO Allied Command Organization known as ACO UFO Association share projects and are supported by members donations. We share UFO Association Organization for Transparency. See https://ufoassociation.org. ACO A.I.
UFO Secret Space Project
2018-2038 – TJ Morris ACIRWe are Universal Life ACO A.I.Various Levels of Intelligent Researchers, ERA COP – Working with – Review Journals such as Educational Research Association Community Online Press – American Communication Online (ACO)ACO Association International Inc.Cosmos ExpoThe goal of the Expo is to give global businesses and organizations an opportunity to showcase their products, services, or programs to residents of the planet. We are a spiritual science community trade civic organization. We work with visionaries who want to be a part of our synergistic future not only on this planet but as a part of the cosmos. We are about thriving in the future. *Participants must bring all their own supplies. We may be able to provide tables & chairs for a fee of $125.00; this will be discussed & arranged after "participation form" is received & approved by the EXPO Committee.We are looking to find others who desire to be team players and a part of our American Communications Online Network. As a non-profit organization in a difficult economy, we know that your strength is in getting word out to the community about your services and fundraising activities as economically as possible.ACO podcastThrough research and in-depth interviews with forward thinkers, podcasts focus on the trends and innovations that reshape our world and way of being, doing, and having.Our websiteAlong with our podcast, is our way of sharing our general research and insights with the public. Our team engaged with our global community of readers and listeners to help inform about our way of understanding future trends so that we can affect positive change in our present world before our transfer to another dimension.Our consulting servicesOur chosen team does personal and business forecasting, research and consulting. Some call this advising while others call this coaching or mentoring. Our agency uses long-term strategic forecasting to help organizations thrive with our way of synergy and expected future trends in goods and services.· ACO· Members truly want to be a part of something bigger than themselves and have time for growth in the future. It's now about where we have been and where we are going so we can project the future.1ACO subject matter experts vary from a range of disciplines and industries worldwide. These are experts who we have individually invited to collaborate with us on current and future projects to ensure our clients receive both informed and multidisciplinary insights to advise our long­ term growth strategy.Your profileThe more complete your profile, the larger your success rate can be for yourself as an individual and to participate with others.Your participation and profile determine what our committees will consider as the rates we can pay you and more frequently you will be selected to participate in projects.Get involvedThere are a few ways you can advise and consult with the clients we partner with. When filling out your profile, we ask that you select a minimum of two topics you are an expert in or can mentor. Upgrading your certification is every 3 years.BenefitsACO Brain Trust is by invitation only. If you are selected to join this network, you will gain access to a select group of people through unique networking opportunities and future membership services.ACO CLUB is for Members Only!UFO Association is for volunteers interested in preserving historical information of our trade association of professionals. We share a support community of friends with an annual gathering for UFO enthusiasts. ACO UFO Not for Profit Organization communication online support group for educational, recreational entertainment and leisure in spiritual health and wellness. UFO Secret Space Command Blog, Ancient Cultures Origin Blog, and the Cosmos Expos Blog are all for communication by the ACO American Communication Online.ACO – ACE framework for Purpose: Educational recreational club through fellowship in Communication building a 501 (c) (3) organization of associates membership driven by annual dues and donations sharing a society as qualified 501(c)(3) tax-exempt organization in the future.Allied Command Organization
UFO Secret Space CommandTheresa J Morris FounderChief Executive Officer (CEO)Association. International growth through communication, education, entertainment, recreational leisure, tourism. Includes medical tourism for health and wellness, archaeological spiritual site-seeing. ACO Self-help, education awareness, care givers health and wellness community interested in medical tourism. Authors, independent owner operators, entrepreneurs, practitioners, researchers, truth seekers, professional association for purposes of establishing and educational 501 (c) 3 organization. A global alliance of members in unity. We share an awareness of education fund raising awareness in a spiritual health and wellness trade association building community saving expense to our government by sharing books, workshops, training programs, and an annual professional trade association with body-mind-spirit and soulful expression of excellent caregivers and practitioners in mind. Art, culture, education, science, technology, history folklife building and social networking in our global community as ACE Folklife Society including ACE Metaphysical Institute, School of Counseling.Mission Statement:To provide spiritual science education awareness services, connecting integrative medicine education to others experiencing innovative online education, entertainment, research, health and wellness community. Articles & By-LawsWHO WE ARE?We are authors, artists, artisans, crafters, creators, educators, engineers, folklife historians, history archivists, ACE journalists, ACE Reporters, ACE Authors, copywriters, editors, ACE Actors Guides, Life Coaches, Counselors, Health & Wellness Advisers, Clergy-persons, Videographers, Website Masters, Web Publishers, Movie Producers, Prop Experts, Custodians of the ancient wisdom, Lightworkers and Truthseekers of the new thought teachings. We come from all walks of life as individuals, professionals, volunteers, clergy, social networking associates.Ace-Folklife Association building community core history so no one must feel alone."Engage in sharing sustainability of both planet and species through spiritual entrepreneur's social networking people who want peace one person's story at a time."ACO – Ascension Center Organization Moving Forward!A Foundation of Self-Improvement & Well-Being!*Emotional * Mental * Physical * Spiritual Well Being*Health & Wellness *Co-Creating*Light of Creativity and ObjectivityACE Folklife dba ACE Nonprofit Inc. a caregiver's storytelling and researching history of our culture's myths, legends, and beliefs. We specialize in human origin. International history and ancient cultures origin archives are our legacy for humankind as researchers, historians, and writers.History-Mysteries-Fae-Myths & Legends-Human Origin & Vanishing Cultures-World Religions Faith and Traditions-Eschatology-Morphology-EpistemologyAlien Contact Org. – Human Origins Historical Research Association. A trade community of professional entrepreneurs. Ancient History Mysteries sharing alien civilizations exist. We will be sharing ACE FOLKLIFE SOCIETY with various associations, organization and various people who also follow the ALA American Library Association.We the members of the ACO, American Communications Online Ascension Center. ACO is an extension of our original inspiration from our founder as the original Ascension Centers Organization which was founded for Spiritual Growth, Education, and Continued Research for the Communication of Truth. We believe in health and prosperity of all. Our official date with the founder and others began when a meeting was held in Hawaii in September 1989 and annually through 1993. The official Ascension Center was founded for sharing together a community of services and a spiritual products company with an import and export understanding of co-creating a global community. We share our own talents and skills as free agents, consultants, and organizers.Services are provided as private and group counseling, study groups, classes, seminars, written publications, audio-visual tapes, and other workshop materials, which is a synthesis of ancient wisdom and new though teachings and philosophies.Original Ascension Center Organization of Spiritual Science for the continuation of history and education with online communication. Ascension as in consciousness raising as the only thing, we take with us when we leave planet earth us of physical form are our memories of our lives lived on planet earth. We experience life after life, near death experiences, andEmotional-Mental-Physical-Spiritual Well Being. Belief in Ascended Masters and Avatars life after death for immortal souls.We learn to share our past lives lessons and return to assist in this lifetime to benefit not only ourselves but other human souls who may desire to share and to not be lonely. We live and learn to share and if we cannot help another, we certainly do not want to harm them. We have a philosophy of live and let live and to do unto others as we would have them do unto our own selves. Treat others the way we want to be treated. We share a win-win way of life. We learn we can all live and learn and love and leave a legacy for those who come after us. Leave the world in a better place than when we found it or was born here. We are doing our part to learn to not be alone and learn to share life in a community with friendship. Many of our members want to learn about others who have had lifetime experiences that may not be like their own on planet earth. the UFO Secret Space Program has been the history of all humanoids who come and go from this planet but in the past was only shared with those with a need to know. Now, we share what history we have found to already have been disclosed about the past of those we call extraterrestrials coming and leaving. We regard UFOS as unidentified objects, and USOs as unidentified submersible objects.DESCRIPTIONWe are an organization with patrons throughout the United States and the world. Subscribers receive a monthly Magazine – Report/Newsletter and are given a discount on all classes, seminars, books, tapes, and material published by the Ascension Centers Non-Profit Organization.OFFERING:A spiritual gathering place for private and group counseling, classes, seminars, publications, tapes for archiving purposes or personal educational use.We offer spiritual and educational products and services. We share body-mind-spirit health and wellness educational products and services.Classes and seminars are formed to discuss materials, teachings, revelations, and experiences of transformation in individual through expansions in consciousness as well as for healing the planet with love and light in a trusting environment.Each member will be continually supported in their spiritual and educational growth, self-improvement, speechcraft, communication, and leadership ability.Support is given to each member to live a "balanced life."This includes mental, emotional, physical, and spiritual well-being for whole life living."Making the world a better place for you, me, our children, and the entire human race."Spiritual Business Community Networking & Trade Organization.Sharing artwork, books, and speakers with vendors who are into the body-mind-spirit sharing the birth-life-death process for our humanoid sentient intelligent being species. We care to share in the awakening awareness of our future by sharing in the arts and sciences. We are about education.We work with adult's continuing education as ACE for the ACE Nonprofit Inc. We are adults who work together in education by sharing in a community online. We are using our practicing skills to provide content. We share content in our blogs and podcasts LIVE on the AIR with blog talk radio. We share webinars and communication online with our audio and video recordings. We write books. We support our libraries and our authors in both hardcover and electronic books we call eBooks online.Creative Imagination Inspiration Interdependence Starving Artists and Authors are coming together to work with Lightworkers and Truthseekers.We are coming together and are asking our authors to assist us in co-creating our members best quality for lithographs to assist us all in raising funds for assisting in uplifting humanity in our art, culture, education, science, technology, history, and folklife.We work with visual and performing artists. We work with artists and authors. We work with speakers in speechcraft and information sharing.We work with social entrepreneurs. We have a call to action to angels, lightworkers, and truthseekers.We have radio shows that are bringing people together. Friends sharing interests together in free open source media such as Facebook meet and discuss co-creating as organizers for various events at venues to support members as authors and speakers. We will provide a gathering place annually to support annual meetings for administrative purposes to elect new directors and officers as the case over time may be presented. WE ARE HAPPY TO SHARE THE FIRST ALIEN CONTACT ORGANIZATION also known as the ACO! We share groups which are interested in co-creating support of the philosophy that Alien Civilizations Exist as ACE the acronym over time. It is known that our history shows that people have been coming and going over time. We are sharing our Ancient Cultures Origin with our latest Cosmos Expositions with interstellar communication, archaeology, anthropology, and ufology all sharing the study of alienology as possibly our origins throughout the cosmos. We are at the crossroads in our lifetimes asking, "WHAT IF!"Due to operating as more than one person in a synchronicity of having a framework to work with as possibly two or more people in unity there must be a general framework we share. This was adopted over time from November 1989 and confirmed with the first group in September 1993 in Honolulu, Hawaii. The original framework was for the first Ascension Center, and Psychic Network. These two have been founded by Theresa J Thurmond who is now known as Theresa J Morris. Theresa is sharing the original epiphany and vision for the future ascension age with the ACO as part of the original history of soul origin the way she has experienced life in this 3D reality. How to know what is folklife a division of anthropology and what is theosophy and both in relation to spiritual science and human physiology is now shared in the future of the education we communicate. The ACE Metaphysical Institute takes into consideration all the arts and humanities and the sciences including cosmology and all metaphysics. CONSTITUTION AND BYLAWS OF THE ACE Ascension Center Education & Ascension Center Organization with the ACE Metaphysical Institute which meets with the founder wherever she may meet with officers and directors in each state in the United States and as other countries are franchised into our international online creations in cyberspace. ASCENSION CENTER ORGANIZATIONCONSTITUTIONARTICLE I1 The Body shall be called the ACO and ACE…ARTICLE II1 This Body ACO dba Ascension Center Organization and the ACE Ascension Center Education shall meet annually at convention, according to adjournment, but in case of emergency the President may call a special session with the advice and consent of the Mission Board, or two-thirds of the members of the Board present and voting may call a special session. The body ACE dba ACE Nonprofit Inc. shall work in alliance with ACO as Alien Contact Org a membership driven education community.2 This Body ACO dba Ascension Center shall include in the meeting annually the state Mission Board also known as ACE FOLKLIFE Society dba ACE for archiving and researching all. ACE as the acronym for adult's continuing education and art, culture, education. ACO Messengers shall be called Personal consultants to the Board of the Body.3 This Body will allow members to join based on annual dues and tithing donations as love offerings to assist in the arts and sciences of humanity education in sustainability of planet and species. Ascension Center Church Org in an online internet church gathering will share radio shows with TJ Morris ET Radio on blogtalkradio.com/tjmorrisetradio and TJ Morris Media.4 This Body shall be allowed to participate in trade and commerce and all enterprises allowed by law. ACO and ACE are recognized as an alliance of one and the same with goals in art, culture, education, science, technology, history, and folklife. ACO ancient wisdom and new thought teachings. ACE history and metaphysics of an esoteric rewriting history of humanity for the future. One being ACO is female dominant while ACE is male dominant as sister and brother in an alliance. Theresa J Thurmond Morris is founder of both the ACE and ACO and refers to the ACE Metaphysical Institute and the ACO with her own choosing for administration purposes with the acronyms as she sees fit.5 This Body shall be known as a not for profit spiritual educational organization and faith based charity fundraising allowed while interested in consumer affairs while advocating civil and human rights for all consumers who have the right to know of the best economical offerings in consumer products with educational awareness of what they are consuming. We will vote with our purchase power and become educated while sharing awareness of choices to vote when we purchase. We recognize purchase power as a platform group as a social network while caring and awake and aware of our sharing power and goodness as in caring for one another. We share our knowing and beliefs as in trust in each other as humans.6 ACE Nonprofit Inc. has been formed for the ACE Metaphysical Institute as a part and division to support the funding of teaching classes on spirituality, metaphysics, and of esoteric nature as a spiritual community. Also, ACO dba AlienContact.Org and Alien Contact.us a club as peer review venues chosen for events and conventions.ARTICLE III1 The membership of this BODY shall consist of messengers from cooperating affiliated offices, churches, associations, groups, as members of this organization as follows:ACE and ACO Spiritual Retreats for authors, co-creators, educators and members. ACE Metaphysical Members share begin as students, qualified in courses and become teachers as the need arises. ACO and ACE will share duties and responsibilities. Websites are maintained by individual members who franchise brand names and logo under the ACE Folklife and ACO as Alien Contact Organization in various locations and countries as the interest is expanded.(1) Two messengers from each retreat, light center, education center, psychic awakening center, medical center, or church having one hundred members or less, which is in friendly cooperation paying annual dues with this organization as a convention in principal; is sympathetic with its purposes and work; and has during the fiscal year preceding been a bona fide contributor to the Convention's work. A convention will be planned annually accordingly in each location which is franchised by way of payment of an annual franchise fee to the main headquarters for registering purposes.(2) One additional messenger for each church, association, group, organization, education institution, shall be allowed for each additional two hundred fifty members, or for each $150.00 and annual donation contributed to the Cooperative Program during the fiscal year preceding the annual meeting but no group, retreat, light center, education center, psychic awakening center, medical center, or church may be allowed more than ten (10) messengers to be allowed to administration management to be included as the international directors list globally. Members are listed in each designated franchise state or country. Members votes are collected by the one through 10 messengers that carry the votes to the annual gathering with a certified copy signed by the messenger responsible for the area franchise.(3) Messenger's cars will be sent, upon request, to individual post office boxes for their members which are registered post office agent to accept the membership cards in the U.S. Postal System in their zip code office of the region in the USA or in case of global organization by registered agent for the nation state or country and regional and local office. State Convention Office must be registered to hold conferences in their home state and country and be a member of the ACO-ACE Convention Directory requested as members in good standing with the founder who is the keeper of the information.(4) Ballots will be issued to each member as a registered member at the time one registers. One vote per member.ARTICLE IV1 On the occasion of its annual meeting the Body shall elect by ballot, a president, a first and second vice president, a secretary, and one assistant secretary. Their duties shall be such as custom imposes upon such officers. They shall hold office until their successors are duly installed at the closing session of the annual meeting of the Body. No president shall be eligible to succeed himself in office. The President and the vice President and Secretaries of the ACO Convention shall be the officers of the ACE FOLKLIFE Mission Board of the ACO Convention.2 Persons to be nominated as officers of the ACO-ACE Convention must be consulted and permission secured before their names are placed in nomination. ACE Nonprofit Inc. officers are officers to be nominated and voted on as volunteers. Ascension Center Education is devoted to fairness for all and transparency for all books in each state and country for accounting purposes and members ballots and votes.ARTICLE V1 This Body has no jurisdiction over the local offices, churches, or the District Associations, and shall exercise no authority over them.2 All single members will be assigned a personal consultant as an agent of our organization depending on their local office, church, in state by location and region of the United States of America and in each franchising country. Volunteer clergy can receive commission on art creations as per any citizen with free will and intent for moral integrity. Charity fundraising with donations of art, books, and other products is considered as part of our annual goal setting. 3 All Agents are simply reporting agents for accounting purposes. Personal consultants are independent contractors for hire as life coaches, personal managers and counselors are listed by office, church, in local city, state, and region in our ACO-ACE Directory. ACE Nonprofit Inc. will also list our agents, consultants, organizers, clergy, teachers, and others who may want to share their talents, skills, and membership with ACO and ACE.ARTICLE VI1 The Body shall be a medium through which the agents, offices, churches, in their sovereign capacity can work together in promoting all nondenominational enterprises which they deem necessary in carrying out the Great Commission of the Christ Consciousness Awakened Awareness of the Higher Self based on eternal knowing of an immortal soul that Ascension is our way of believing in Ascension Center Churches and Education. ACE Universal Life Churches are established in the United States of America. We certify our own clergy, teachers, and administrators.2. Association. International growth through communication, education, entertainment, recreational leisure, tourism. Includes medical tourism for health and wellness, archaeological spiritual site-seeing. ACO Self-help, education awareness, care givers health and wellness community interested in medical tourism. Authors, independent owner operators, entrepreneurs, practitioners, researchers, truth seekers, professional association for purposes of establishing and educational 501 (c) 3 organization. A global alliance of members in unity.3.Education fund raising awareness in a spiritual health and wellness trade association building community saving expense to our government by sharing books, workshops, training programs, and an annual professional trade association with body-mind-spirit and soulful expression of excellent caregivers and practitioners in mind. Art, culture, education, science, technology, history folklife building and social networking in our global community as ACE Folklife Society including ACE Metaphysical Institute, School of CounselingARTICLE VII1 The ACE FOLKLIFE Historical Society Mission Board of this body shall consist of members from each cooperating arm as categorized by their elected business title as office or church in the District Association plus eight at-large members from the geographical region of the state in which they live and reside. Members must live and reside in a direct district to work in their district as member, and personal consultant, agent. The Mission Board membership from the associations shall consist of one member from each cooperating District Association with a total office, church membership of five thousand or less, and one more member for each additional five thousand office or church members, or major fraction thereof, as reported in the Convention Annual Directory of the preceding year. Each District Association of our Personal Consultants Active with a total office church membership of five thousand or less shall nominate two persons for each membership on the Board of whom one shall be elected. Should any District Association fail to exercise this prerogative, then the Committee on Nominations of the Convention shall make the nomination.2 The eight at-large members shall be elected from any cooperating affiliated franchising Office Church, office education school, and ACE Metaphysical Institute. These members shall be elected by nomination by the Committee on Nominations of the Convention at the international annual meeting. ACO Directors may share in the ACE Educational curriculum building for goal setting and futurology. 3 All members of the Board shall be elected by the ACO dba Ascension Center Organization for a term of three years, beginning in 2012, except those who are elected to fill the vacancies by 2017. Vacancies from death, resignation, or moving from the district association. A move of an at-large member does not constitute a need for a change in regional association. No member shall be eligible for re-election for one year after his term has expired except one who has been elected to fill an unexpired term. Members serving two (2) years and six (6) months shall be considered as serving a full three-year term. Any vacancies on the ACO-ACE Mission Board not filled at the annual meeting of the Convention or which occur during the year shall be filled by the Mission Board Founder upon recommendations of the Convention's Committee or Nominations. Mission Board Founder is Theresa Janette Thurmond Morris aka TJ Morris. May 2019 begins the new Board of directors with Thomas R Becker, Ralph Kennedy Johnston, and Theresa J Morris. ACO-ACE Association and UFO Association to hold office in Florida with online meetings via skype, zoom, or other electronic go to meeting webinars and go to meetings are required monthly and/or weekly.4 The retiring President of the Convention shall be an at-large member of the Mission Board for one year immediately following her/his term of office for the past annual convention as venue organizer event planner. This is for the largest annual gathering.5 The retiring President of the Convention shall be an at-large member of the Mission Board for one year immediately following her/his term of office and may be allowed to become an event planner listed for future event planning as a charity fund raiser along with his or her peers and a chairperson of a future community committee or group in our various social media groups online.6 Three members of the Board of Directors shall constitute a quorum for administrative planning purposes. These articles and by-laws must be reviewed by a legal and clergy member for morals and integrity with the laws of the United States of America. All changes are recorded once voted on with a signature by the founder.ARTICLE VIII1 The Mission Board shall have charge of the work of this body for organizing events, of this body between its sessions and shall appoint all officers, agencies, committees, that may be required to perform duties in its work including ACE and ACO.2 The Mission Board shall not contravene any Convention action. Mission driven statement based on articles and by-laws.3 The Mission Board shall neither create, accept, nor release any institution or agency for the ACO Convention, unless so instructed by the ACO Convention. The existence of any emergency in connection with an institution or agency shall be determined by a majority vote of the Mission Board in session, and the Board shall make recommendations to the Convention with reference to emergency.4 The Organized Mission Board shall make a report to the annual ACO Convention. At least thirty days prior to this meeting the Board shall publish in the ACO Club Associates Guide its recommendations except in an emergency that may arise thereafter. The founder Theresa J Morris shall publish for transparency purposes. 1. ACO Associate Clubs Issue in the Associate Clubs Information Recorder. ACO Club for our members stories to include our ERA COP veterans and civilians public service members. We share our Education Research Associates Community Online Press as our Reporting Journal and/or Newsletter if members want to establish a name with a by line as a contributor. Editor for our ERA COP Magazine and supporting staff is voluntary.2. We continue our spirituality without Ascension Center Organization in Unity. We welcome all veterans and public service retirees.3. We now add for those interested our Alien Contact Organization for those who share our belief that "Alien Civilizations Exist". We share ACE Folklife Society and ACE Society of Metaphysicians.4. Alien Contact Organization and Alien Contact UFO Secret Space Command will work together to establish loyalty, trust, and camaraderie among our members at UFOsecretspace.com5. We share with social media groups in our websites among others we adopt as service marks. UFO Secret Space made known in 2017 at ufosecretspace.com. Cosmos Expo will be an annual gathering with a website magazine known as cosmosexpo.com to support our annual membership event.6. We share Allied Command Organization department of American Communications Online as associate guide publication. ACO Club Members articles can be published with graphic art. Thomas R. Becker has asked to be project designer and editor with Theresa J Morris.7. ARTICLE IX1 No person shall be eligible to serve at the same time on more than one Board of Trustees or Directors or Managers of any agency or institution, office, church fostered and supported by the whole of the ACO dba Ascension Center Organization, except the Mission Board of the Convention, and shall not be eligible for election or appointment until he/she has been a member of the ACE-ACO for at least one year as a calendar year prior to nomination or appointment, and shall not be eligible for re-election after serving two full terms until having been out of office at least one full year, except the ACE-ACO Schools of Education as in the Ascension Center Education Institute Universities online may have a maximum of eight (8) trustees per brick and mortar college or university outside the state; these trustees to be nominated from candidates who are members in good standing of cooperating fully with the ACE Metaphysical Institute, ACE Academy and ACO Institute of Technology in their respective states in the United States or global work in the overall course curriculum directory of offices and divisions by the location based on home headquarters in the USA and safe global tectonic economic plates on the planet. ACO School of Counseling addresses our caregivers, clergy, life coaches, practitioners, web masters, managers researchers, searchers, Manage career transitioning, writers, editors, volunteers, and certification programs.ARTICLE X1 The President of the Convention and the Executive Director-Treasurer shall be ex-officio members of all committees as required to oversee the overall administration and accounting of the entire ACE-ACO annual convention for accounting purposes of charity donations to be included in the future rental of the annual venue and speakers. ARTICLE XI1 This Constitution may be altered or amended (except Article V) by the concurrence of two-thirds of the members present at any annual convention meeting, one year's notice having been given to the proposed alteration or amendment.ARTICLE XII1 The Body will remain perpetually however if for any reason body was to be resolved for any reason the assets would be liquidated and all proceeds will be given to a charity for hunger and poverty in America. We share concerns for those who are hungry and alone. We also look after our elders in all states and franchised countries and if funds are over 1000.00 a division will be done per thousand and disbursed to prepare meals for the elderly and homeless.2 Fifty percent of the projects to be discussed as fund raisers will be to assist the hungry, homeless, women rights and government approved homeless shelters. We disburse in assigned regions according to Veterans Organizations Groups around the United States of America. We support our veterans.ACE-ACO BY LAWS1 The Session of the Convention shall be opened and closed in a one-minute silent prayer by a delegated officer with our own clergy of the ACE and/or ACO certification membership in good standing. Annual conference will have a clergy serving member present to guide the spiritual affairs of the convention and to provide counseling and for purposes of performing marriages. 2 Visitors shall have the privilege of speaking in debates or panel discussions but not of voting. Only members can vote and serve on panels. 3 Each member, when he/she speaks in debate or has any communication to make to the convention, shall address the president, and when he/she has finished he/she shall be seated. This Rule #3 & #4 of by laws must be read at each Convention to the masses in the beginning and shared with those by members to visitors and members who are arrive late in passing in case a visitor is new to the convention. This rule is placed in all publications for each annual convention including in the annual program for public relations purposes. Order is to be maintained by a Sergeant at Arms member who has served in the Armed Forces and preferably a veteran. 4 No member shall speak more than twice in any since debate or event on the same day without a two-thirds majority vote of the Convention except the President of the Convention and the Executive Director- Treasurer named in Annual Directory, and the Annual Program Guide with the Officers list for the convenience of our members and ticketed visitors acknowledgements .5 When a member shall be called to order he/she shall be seated until the president has determined whether he/she is in order. An appeal may be made from the decision of the president in this as in any case. Members are to be educated not to talk over each other and to respect members right to speak once recognized by the President.6 When the president shall desire to be heard in debate; or to be temporarily absent, the Chair can be taken by one of the vice presidents, or in case of the absence of both vice presidents, by some member whom the president may select or elect as masters of ceremonies in the President's stead when involved in another conference meeting. The Sergeant at Arms can step into a position of authority when no officer is present.7 In the election of officers by ballot submitted in writing which is a part of the annual program to be counted after left in ballot boxes at the entrance of the convention hall tables, if only one nomination is made and no other person desires to be nominated, the secretary may cast a the ballot of the Convention which is in writing and announced to the whole convention in the main meeting hall at the beginning and updated at the end of the convention meeting with ballots posted total for the coming year for results all do not have to remain present to win. We prefer the officers to remain until closing with nominees included to learn of results and to know their term of office and training time allotted.8 The results of all balloted votes shall be made known to all messengers and recorders whether at the proceedings of the Convention. It being understood that these votes refer to the examination and election of all previous written ballots for the election of officers and any other ballot votes as assigned to debate committees for the next annual meeting.9 All resolutions, memorials, and all motions except motions related to procedures made for the consideration of the annual ACE-ACO Convention shall be presented in writing. All resolutions and memorials shall require for passage the concurrence of two-thirds of the members present and voting which are a minimum of quorum of 40 members for the annual convention in 2014 as 2011, 2012, 2013 for the first three (3) years have been filled voting to be held for all to follow in 2017 and then every three (3) years perpetually. Noted online original history is so noted from the kept physical record owned by the founder since 1989 in Hawaii. 1989-1993 Ascension Center Education and in Kentucky 2003- 2007 ACE FOLKLIFE Art, Culture, Education. In 2015 President is Thomas R Morris was nominated and appointed for three (3) years based on prior contributions to radio and ACE Book Club. In 2017 after the death of Thomas R Morris, December 2, 2015, a one-year grace period was given to the founder Theresa J Morris. 2017 a new beginning was established to begin at the meeting in May in Mobile, Alabama with the three (3) directors. Future events will be determined.10 No new item of miscellaneous business may be introduced in the last session of the annual Convention without unanimous consent of the Body. No motions to rescind a previous action of the convention may be made in the last session of the annual Convention except by unanimous consent of the Body unless it involves banking choice for the local agent as a personal consultant of the newest franchise if needed to form a new franchise which is normally handled and the Bank chosen by the original founder as TJ Morris ACO, in Gulf Breeze, Florida USA. First donations cannot be accepted unless recognized with the ACO Convention LOGO which is authorized by and through the President only for branding purposes.11 The Presiding Officers for Banking Purposes is President/CEO. The Executive Director-Treasurer may share in responsibility and accounting and bookkeeping purposes for the assigning of a cashier's check for the venue and payment of the expenses for each annual fundraising event. The presiding officers shall be empowered to sign for the entire ACE and ACO Convention. The President of ACO will remain first opening Officer as President/CEO of the original ACO for the duration of her life as the first Life Coach to be recognized in the public and banking system in the United States of America. Upon her death then the Number #2 Account of ACO Hawaii will become the Home Office but until such time Florida is the original founding state with the original founder of ACO with the Federal ID of the Internal Revenue Service and the US Treasury which has been assigned in 2012. Second office is recognized as Ascension Center Education – Hawaii, USA. For historical purposes the original date of the first Ascension Center was filed on the record in Hawaii 1992-93 in Honolulu, Secretary of State Office of assumed names where all requirements were met and signed by Theresa J Thurmond-Orr at the time. Official documents as Hawaii Driver's License and US Passport were used at the time of filing along with brand logo. Cost to use brand logo and name in Hawaii is now set at $250.00 but will increase to $300 for filing in each state hereafter as an Agent Office to be used for convention purposes and business enterprise in trade and commerce if other than the Founder, Theresa J Morris dba ACIR, Agent for ACO dba Ascension Center Organization, and ACE FOLKLIFE a 501C3 Not for profit corporation open source on the internet in cyberspace social networking as art, culture, education. ACO is assigned for trade and commerce of cotton products for branding purposes to be used in association with the ACE FOLKLIFE Brand for business enterprising purposes and more importantly recruiting members to our convention. ACE Metaphysical Institute came into being with the original founder Theresa J Morris for esoteric purposes and as a clairvoyant with clear insight and intention.12 The Committee on Order of Business shall suggest an order of business for the next meeting of the Annual Convention at the end of the Convention. It shall provide periods of time during the early days of the annual convention for the introduction of all matters requiring a vote not scheduled on the agenda and in the annual itinerary program in the actual printed program of publications to be kept in a volume book by year. One copy of each annual program by year will be labeled and kept in a hard-bound binder. When introduced unless the annual convention then gives its unanimous consent by hand raised voting as in all yeas and nays with the majority rules to accept the motion as presented in motion form to be adopted then shall fix time for the considerations of the same.13 Twenty-five percent of the registered messengers at any annual meeting convention shall constitute a quorum for the conduct of business.14 Any question that is not provided for by the foregoing rules shall be decided according to Robert's Rules of Order (Latest Edition).15 The foregoing rules may be altered or amended at any annual meeting by a vote of two-thirds of the members present.16 Committees of the ACE-ACO with Guidelines will be presented at the Mission Board of December and May meetings and of course other nominations may be filled as needed by the president. Meeting of the committees including special committees will be included as in those of the Civitan International Booklets as one of the organizations that has trained the president, Theresa J Morris, of Ohio County Kentucky, USA. Thomas R Morris served as co-founder of ACE in 2007 and elevated Theresa J Thurmond Morris to President/CEO as a nomination which was approved unanimously for the forming of corporation articles and by-laws.17 Committees on the annual awards and programs shall formulate the program for the annual meeting with awards to be presented to the winners of various contests held annually including the ACE AWARDS. Adults Continuing Education, Ascension Center Education, and Alien Contactees Education are sharing committees, groups, and websites for our community online practicing skills in writing and communication.PROJECT MANAGEMENT COURSES – ACO CLUB and ACE Book Club1. IN ACO Social Service Club – Adults Continuing Education as ACE in America. We share the ACE Book Club with our members who are authors, contributors, and supporters.2. Integration Management recognizes and promotes diversity in technologies, cultures, people and ideas, both within our company and in the markets where we do business. ACE Folklife dba ACE Nonprofit Inc.3. Plan on preparing with the new edition Based on Material we will share as the New ACE-ACO Guide for 2014. Taking the Exam after July 2014. 2015-2018 is important years for our new members to share in our webinars, and to meet our originators in person at book signings.4. We recertify every 3 years. We will share in other certification programs under generally accepted project management of experts. 500 to 600 pages are areas of incorporation into our NEW ACE GUIDE in the Metaphysical Industry of our state quotes of projects engaged in the project. If you or your organization would like to affiliate please contact our main office in Kentucky, USA.5. We are to be new to accepting the standard that is being used in world information network of the United States and for global management in the World Organizations Project Management Maturity.6. Exam takers of disconnect and the outlines of the content of the exam is now a point to fill the gap of time and cost for management of specific processes. We are socializing the new data flow throughout the ACE Guide has been made consistent to the Ascension Age of knowledge to wisdom.7. We now have the potential to leap to adaptive methodologies in a generic guideline driven standard in the knowledge industry. We share that we are a spiritual community of immortal souls who are bringing truth to light of our history and communication for the betterment of all for health and sustainability.8. We are in the health and wellness support along with continuing education in a whole lifelong learning process.9. We prefer to share the information that is shared in projects which deal with the new knowledge base of information. The New Social Entrepreneurs cover the entire span on project management life cycle in dealing with future stake holders. We handle much that is out of scope of critical understanding in order to ACE the ACE EXAM. We will be scheduling events on our webinars and future certification programs and psychic fairs and workshops with ET Seminars and Divine Expo.10. It's interesting to know that we are in planning and that we assist in creating plan and scope management plan and cost management plan.11. ACE Nonprofit Inc. has been formed for the ACE Metaphysical Institute as a part and division to support the funding of teaching classes on spirituality, metaphysics, and of esoteric nature as a spiritual community… We share awakening wisdom of our human nature and natures God.12. The development project management plan to distinguish what has been done in the past knowledge-based management plans. We are always researching and learning how best to communicate our efforts for health, wellness, motivation, and support of our global community for health and prosperity for all.13. We are working on the new management of stake holder's management of our high-level profit changes as integration knowledge area for direct management project execution.14. Plan scope management will co-create a document that will tell the Project Team will be defined validated and controlled. This is the new process for the entire planned schedule management to share in the world information network knowledge area, of policies, procedures, and planning cost management. ACO-ACE MANAGEMENT STAKEHOLDER'S ENGAGEMENTPLANNING, MANAGEMENT, PROCESSING, and EXECUTINGPlanned quality IN HUMAN RESOURCE MANAGEMENT.Communications in knowledge of human processes as management stakeholder knowledge areas that are significantly exchanged.Planned communications management and controlled communications.The latest process is significant information of project performance and this applies cleaner and controlled monitoring risks. This makes procurement knowledge area as plant procurement management.Controlled Management and Stake Holder's Management and engagement have been created to participate in knowledge of management and training.ACO & ACE Project Management Technical Institute is an Equal Opportunity Employer.Scope ManagementTime ManagementCost ManagementQuality ManagementHuman Resource ManagementRisk ManagementCommunications ManagementProcurement ManagementProfessional Responsibility,Project Management – Context, Framework, ProcessesCLASSROOM and ONLINE TRAINING and MANAGEMENTClassroom boot camp of instructors to lead students through changesWe will present presentations with our advisers on when to take the exam and why you need to select the ACE Metaphysical Institute for Certifications and re-certifications based on your interest. Please contact us in learning to share the future of our Metaphysical Group Training Matrix.We have Group request for those who are qualified for the Boot Camp. Submit your resume at no cost to you at Resume Review to TJ Morris dba ACIR and we will give you a qualified opinion over sharing resumes over the last ten plus years with our ACIR for Investigative Reporting on the Social Paranormal Kind.TJ MORRIS ACO SOCIAL SERVICE CLUBPrivate Membership Club – Membership Driven – Family Mediators – Personal ConsultantsWe share the ACO dba Ascension Center Organization and – Ascension Care Education as ACE Nonprofit Inc. Association.We are in the personal and business helping professions support of body~mind~spirit sharing the Birth~life~death experiences together.We share the ACO as Alien Convention Organization.We share the ACE as Alien Contact Education.We share our spirituality in our Ascension Center Church Organization. We have shared Radio Shows since June 2012. We have built a large group of people who believe as we do as "Alien Civilizations Exist!A SENSION CENTER – PERSONAL CARE SERVICESWithout the information we receive through our five senses we could not function as the beings we are. Each sense is important, but each has limitations. On the other hand, one sense can be used to compensate for another. The most effective way to receive information, of course, is to use all our senses in harmony.Another important aspect of learning about our senses is to become aware of physical handicaps that may cause difficulty for people who do not have access to these senses, though this does not make people different or lesser. These marvelous gifts of sensing the world we live in must be protected and cared for. Without the information we receive through our five senses we could not function as the beings we are. Each sense is important, but each has limitations. On the other hand, one sense can be used to compensate for another. The most effective way to receive information, of course, is to use all our senses in harmony.Another important aspect of learning about our senses is to become aware of physical handicaps that may cause difficulty for people who do not have access to these senses, though this does not make people different or lesser. These marvelous gifts of sensing the world we live in must be protected and cared for.ACE Nonprofit Inc. – A SENSES EDUCATION ASSOCIATIONMembers Family Mediation- Personal Assessments for our Clients~ Caregiver Support ClubCaregivers – Housekeepers –Run errands- Weekly housekeeping – Daily remindersWe offer our services as needed or required on daily, weekly or bi-monthly check-ups on scheduled visits depending on the circumstances.Family Financial Consultants – Bookkeepers – Girl Friday- Secretarial Service – Authors Ghost Writing Editing ServicesACO SOCIAL SERVICE CLUB – HEALTH & HAPPINESS AS A GOAL FOR OUR MEMBERS. TJ MORRIS ACO IS MEMBERSHIP DRIVEN WITH PROFESSIONAL PERSONAL CONSULTANTS.ACO Culture Club –Overall Mission Statement for ACE & ACOART-CULTURE-EDUCATIONWe the members of the ACO and ACE ascribe to the highest standards of excellence about the uplifting of humankind by providing spiritual education awareness and CONTINUED research for the communication of truth.SERVICES PROVIDEDWe share services as private and group counseling, study groups, classes, seminars, workshops with co-created written materials, audio/visual tapes, books-ebooks, and other materials. We share media, news, and publishing.We are supporters and advocates of the arts and healing for body-mind-spirit growth. Both ACE Nonprofit Inc. – ACE Metaphysical Institute and ACE Folklife Society and ACO Ascension Center Organization work together for spiritual education in our future community online with TJ Morris Media.We share our Associate Community Online as ACO as a community online practicing skill sharing information and education to those who desire to tune in and share our lives as trusted associates.Soul Essence – Spiritual Beings. Ascension Center Organization (ACO) – Ascension Center Education (ACE), ACE Nonprofit Inc., ACE Folklife Org, join as associate's cooperative is membership driven to share awakened awareness affirmations as a spiritual support membership group community online practicing skill. ACE-ACO-ACIR-Ascension Center Information Resources is a foundation of self-improvement and well-being for emotional, mental, physical, and spiritual well-being.We believe we are body-mind-spirits sharing the birth-life-death process and that the Ascension Age Affirmations Awakening Awareness are welcoming those who desire to become a part of our ascension spiritual tribe members in our Ascension Age Community. We know alien civilizations exist.We share the ET Radio with friends who also know of the Cosmos Beings. Ascension ET Spirit is ACE Metaphysical Institute as the ACE Nonprofit Inc. for spiritual growth education and continued research for the communication of truth. Introduction to Metaphysics and Spirituality Classes held weekly Ancient Wisdoms` New Thought Teachings. Essence Origin, Memories, Intelligent Design, Collective Conscious, Unconscious, and Critical Mass Mind. Metaphysical Ministers on Cosmology, Computers, Cyberculture, Science Discoveries, Human Spirit. We are all about being body-mind-spirit sharing the birth-life-death process. Theresa J Morris and her friend Bill M Tracer of ACE and ACO Memphis (Cordova) TN & Beaver Dam, KY Join our Laws of Cosmos Beings in Cosmic Cyberspace. Join us Sundays 9 E, 8C, 7 MT, 6 Pac., 3/2 Hawaii Time in the USA. Central is spring back/Fall forward time. TJ Morris dba ACIR managed by managers of ACO USA- Theresa J Morris, Florida USA.Share this:By: TJ Thurmond Morris aka Theresa J Morris and TJ Morris dba ACIRAllowing us to co-create Alien Contact as a new cultural phenomenon is not a pseudoscience but a way of understanding a cultural community in the paranormal world some call an alternative culture.We share an interest in those who are sharing multi-media as authors of books, ebooks, blogs, websites, speaking on radio shows, television shows, events, conferences that all work together with the connection on the Internet or online presence in social media networks.Alien contact is a part of our Ascension Center Education process which is a part of our American Cultural Heritage.At our organization where we support each other's co-creations online we share as a community online practicing skill.There are parts of us that honor our body-mind-spirits sharing the birth-life-death process here on planet earth as a responsibility for the critical mass mind thinking concerns project.We share in what we should forever learn above and below about our own humanoid sentient intelligent being species. We share the responsibility for each other about doing our best not to judge each other but to support each other in our own spiritual soul growth through sharing education as adults.We share the adult's continuing education whether one has the funding to return to a formal education, secondary to having to work for a living. We share that we support each other as a social community online in fellowship.We have co-created websites where we support each other with our own similar interests' groups online and annually in person. We do what we can to attend events, and conferences in our area of the country of which we reside. We are more than individuals but accept a challenge for recognizing each other's web presence.We share each other's friendship in social media, especially on Facebook, Twitter, Google, and other locations including our Skype connections for communication.We share our radio shows where we document our stories and shares of our own special alien contact community.If you are interested in "Alien Contact" please allow us to share with you our own personal situations in life and our stories which become our experiences over time that may or may not be familiar to most on this planet we presently call home.Life on planet earth is more than we have been led to believe in the past by our academics, our governments, and even our churches. We are now more of an adult species of humanoids who can think for themselves and co-create counter cultures to those which were controlled by those in power over our health and prosperity and sustenance held in suspense for lack of education on how to better accommodate the masses. This is changing now as the world becomes accustomed to the fact that alien civilizations exist and that some aliens contact those not only in space but on earth.We call these people who have alien contact "Alien Contactees". Now it is time to understand the various ways we can be contacted not only in our own minds but in person.This is where some UFO sightings come into play.ASCENSION PSYCHICS a division of TJ Morris Radio of Cosmos Radio Organization.Theresa J Morris, Host.Welcome to the new time in space with TJ Morris I will be sharing more on our TJ Morris RADIO NETWORK. FULL DISCLAIMER: SEE TERMS OF USE which are displayed for all members and non-members as open source information,ACIR – ACO – What we care about:World, Planet, Space Colony, Etc.: _________________________________________________________MISSION STATEMENT: 'Our objective is to help humanoid sentient intelligent beings to escape the bonds of poverty and hopelessness by providing education, life skills, values and a caring environment that will empower them to successfully move into the mainstream of society.The ACO Association is an unincorporated cooperative association of webmasters and communicators online. ACO Club is a virtual professional association with actual presence in the world of communication scholars and practitioners.ACO Association is committed to enabling the effective use of new and evolving technologies to facilitate communication instruction, research and criticism, and to offering a technologically supportive venue for all who study the ways in which humans communicate. While the Association is based in the United States, it is a virtual organization that welcomes participation from academics, professionals' journalists' writers, graphic illustrators, news agents, authors, copywriters' editors, publishers Ail throughout the world.Our peer reviewed journal: http://ACO Association.comEducation ACO CLUB founder Theresa J Morris TERMS OF USEIncludes service marks and trademarksUsage of contentUnless otherwise indicated, all information contained on this website, such as text, graphics, logos, button icons, images, audio clips is copyrighted by and proprietary to the ACO, American Communication Online, ACE Folklife Society, Inc., and may not be copied, reproduced, transmitted, displayed, performed, distributed, sublicensed, altered, stored for subsequent use or otherwise used in whole or in part in any communication manner without ACO' prior written consent, except that the user may make such temporary copies in a single computer's RAM and hard drive cache as are necessary to browse the website. The user may also make a single copy of the Content displayed on any page of the website to be used by the user for personal and noncommercial uses which do not harm the reputation of the ACO, provided that the user does not remove any trademarks, copyright and any other notice contained in such content.User Agreement Terms of UseThis Worldwide Website with its home page in the domain "cosmosexpo.com, ufosecretspace.com" (the "Website") is a complimentary information and interactive community service offered by the ACO American Communications Online, ACE Folklife Society. ("ACO") at no charge to users of the World Wide Web, with the express condition that these users agree to be bound by the terms and conditions set forth in this User Agreement. ACO reserves the right to change these terms and conditions at any time, without notice to you, and you must consult the most recent version of this User Agreement (not an older cached version) each time you view the Website. Use of this Website constitutes your acceptance of all the following terms and conditions, in their current form or as modified.Description of serviceACO currently provides users access to an extensive amount of resources, including, but not limited to, public forums, health and medical content, online tools, calendaring, email, to-do lists, bookmarks, other personalization features, book/publication offerings, and various communication tools (the "Service"). ACO assumes no responsibility or liability for the timeliness, deletion, mis-delivery or failure to store any user communications or personalization data or settings. All such risks shall be borne by you.Registered user account, password, and securityIf available on cosmosexpo.com, ufosecretspace.com or other ACO websites, users may register and create a personal account profile to provide more personalized information. You also may be able to link a social site account with your ACO personal account. Users are responsible for maintaining the confidentiality of the user ID and password and are fully responsible for all activities that occur under their account. ACO does not retain liability or responsibility for such use.Note: The connection between accounts is established and provided in a secure manner by a social network connection provider. Neither your Username nor Password is stored by this provider.General practices regarding use and storageUsers acknowledge that ACO may establish general practices and limits concerning use of the ACO website, including without limitation the maximum number of days that email messages, message board postings or other uploaded content is retained by the website. The maximum number of emails that can be sent or received by an account, the maximum disk space allotted on servers for an account, and the maximum duration for which an account can be accessed in each period. You acknowledge that ACO has no responsibility or liability for the deletion or failure to store any messages and other communications or other content maintained or transmitted by the ACO website servers. You acknowledge ACO has the right to log off accounts that are inactive for an extended period. You further acknowledge that ACO reserves the right to change these general practices at any time with or without notice.Registered user conductYou understand that all information, data, text, photographs, graphics, messages, or other materials ("Content") publicly posted is the sole responsibility of the person from which such content originated. This means that you, and not ACO, bear all risks and liabilities for all Content that you upload, post, email, transmit or otherwise make available via the service. You agree to not use the service to:upload, post, email, transmit or otherwise make available any Content that infringes any patent, trademark, trade secret, copyright or other proprietary rights ("Rights") of any party;upload, post, email, transmit or otherwise make available any unsolicited or unauthorized advertising, promotional materials, "junk mail," "spam," "chain letters," "pyramid schemes," or any other form of solicitation. (Posting the same note more than once can be considered "spam" or "spamming");upload, post, email, transmit or otherwise make available any material that contains software viruses, or any other computer code, files or programs designed to interrupt, destroy or limit the functionality of any computer software or hardware or telecommunications equipment;upload, post, email, transmit or otherwise make available any Content that is unlawful, harmful, threatening, abusive, harassing, tortious, defamatory, vulgar, obscene, libelous, invasive of another's privacy, hateful, or racially, ethnically or otherwise objectionable;impersonate any person or entity, including, but not limited to, an ACO official, forum leader, guide or host, or falsely state or otherwise misrepresent your affiliation with a person or entity;forge headers or otherwise manipulate identifiers in order to disguise the origin of any Content transmitted through the Service;disrupt the normal flow of dialogue, cause a screen to "scroll" faster than other users of the Service are able to type, or otherwise act in a manner that negatively affects other users' ability to engage in real time exchanges;intentionally or unintentionally violate any applicable local, state, national or international law;"stalk" or otherwise harass another; orharvest or otherwise collect or store personal data about other users.You acknowledge that ACO and its designees shall have the right (but not the obligation) in their sole discretion to refuse, move, edit, or delete any Content that is available via the Service. ACO and its designees shall have the right to remove any Content regardless of whether such communication(s) violate the User Agreement. You agree that you must evaluate, and bear all risks associated with, the use of any Content, including any reliance on the accuracy, completeness, or usefulness of such Content.You acknowledge and agree that ACO may preserve Content and may also disclose Content if required to do so by law or in the good faith belief that such preservation or disclosure is reasonably necessary to: (a) comply with legal process; (b) enforce the User Agreement; (c) respond to claims that any Content violates the rights of third-parties; or (d) protect the rights, property, or personal safety of ACO, its users and the public.User submissionsBy submitting communications or content to any part of this Site where such content would be viewable by the public (e.g. posting on a public forum/bulletin board or public chat or other public communication), you agree that such submission is non-confidential for all purposes. Any submission to this website will be deemed and remain the property of ACO. You grant–or warrant that the owner of such content has expressly granted ACO a royalty-free, perpetual, irrevocable, world-wide nonexclusive license to use, reproduce, create derivative works from, modify, publish, edit, translate, distribute, perform and display the communication or content in any media or medium, or any form, format, or forum now known or hereafter developed.Notification of infringing contentThe content available on the Website may include content provided by or received from third parties. ACO does not permit the use of content on its websites that infringes on the trademarks or copyrights of others, and will remove any such content if properly notified of such violation in accordance with the procedure set forth below:To notify ACO of alleged copyright or trademark infringement on any ACO website, send a notice to the address down below. Please provide ALL the following information (as required by 17 U.S.C. §512(c)(3)):A physical or electronic signature of a person authorized to act on behalf of the owner of an exclusive right that is allegedly infringed;Identification of the copyrighted work claimed to have been infringed, or, if multiple copyrighted works are covered by a single notification, a representative list of such works;Identification of the material that is claimed to be infringing or to be the subject of infringing activity and that is to be removed or access to which is to be disabled, and information reasonably enough to permit ACO to locate the material;Information reasonably enough to permit ACO to contact you, such as your name, mailing address, telephone number, and, if available, an electronic mail ("email") address;This statement: "I have a good faith belief that use of the material in the manner complained of is not authorized by the material's owner, or its agent, or the law."; andA statement that the information in the notification is accurate and that the signatory to the notice has the authority to enforce the rights that are the subject of the infringement claim.Upon receipt of the above information, ACO will promptly investigate and take appropriate action, then notify you of that action at the contact address provided.Designated Agent for Notification of Claimed Copyright InfringementC/O TJ Morris Agency
ACO American Communications OnlineACE Folklife Society, Inc.3406 Greenbriar Court, Apt AGulf Breeze, FL 32563Notifications to the serviceACO reserves the right at any time to modify or discontinue, temporarily or permanently, the Service (or any part thereof) with or without notice. You agree that ACO shall not be liable to you or to any third party for any modification, suspension, or discontinuance of the Service.TerminationYou agree that ACO, in its sole discretion, may terminate your password, account (or any part thereof) or use of this Service, and remove and discard any content within the Service, for any reason, including, without limitation, for lack of use or if ACO believes that you have violated or acted inconsistently with the letter or spirit of this user agreement. You agree that any termination of your access may be affected without prior notice and acknowledge and agree that ACO may immediately deactivate or delete your account and all related information and files in your account and/or bar further access to such files or the service. Further, you agree that ACO shall not be liable to you or any third-party for any termination of your access to the Service.Medical disclaimerYou acknowledge that the information on the Website is provided "as is" for general information only. It is not intended as medical advice and should not be relied upon as a substitute for consultations with qualified health professionals who are familiar with your individual medical needs.Disclaimer of warrantyACO makes no warranties of any kind regarding this Website, including but not limited to any warranty of accuracy, completeness, currency, reliability, merchantability or fitness for a particular purpose, or any warranty that these pages, or the server that makes them available, are free of viruses or other harmful elements, and such warranties are expressly disclaimed.Limitation of liabilityYou agree that you will hold harmless ACO and its officers, directors, employees, and volunteers from all claims arising out of or related to your access or use of, or your inability to access or use, this Website or the information contained in this Website or other websites to which it is linked. This includes, but is not limited to, information or materials viewed or downloaded from this Website or another website to which it is linked that appear to you or are construed by you to be obscene, offensive, defamatory, or that infringe upon your intellectual property rights. In no event will ACO or the contributors of information to this Website be liable to you or anyone else for any decision made or action taken by you in reliance on such information or for any consequential, special or similar damages, even if advised of the possibility of such damages.EndorsementsYou acknowledge that the opinions and recommendations contained in this Website are not necessarily those of the ACO or endorsed by ACO. ACO may provide links on the Website to other websites which are not under the control of ACO. In general, any website which has an address (or URL) which does not contain "cosmosexpo.com or ufosecretspace.com" is such a website. These links are provided for convenience of reference only and are not intended as an endorsement by ACO of the organization or individual operating the website or a warranty of any type regarding the website or the information on the website.Usage of contentUnless otherwise indicated, all information contained on this website, such as text, graphics, logos, button icons, images, audio clips is copyrighted by and proprietary to the ACO American Communications Online, ACE Folklife Society, Inc. and may not be copied, reproduced, transmitted, displayed, performed, distributed, sublicensed, altered, stored for subsequent use or otherwise used in whole or in part in any manner without ACO' prior written consent, except that the user may make such temporary copies in a single computer's RAM and hard drive cache as are necessary to browse the website. The user may also make a single copy of the Content displayed on any page of the website to be used by the user for personal and noncommercial uses which do not harm the reputation of the ACO, provided that the user does not remove any trademarks, copyright and any other notice contained in such content.TrademarksACO American Communications Online, ACE Folklife Society, Logo Design, and other marks, are registered service marks of the American Communications Online.The marks, ACO, American Communications Online, ACE Folklife Society is a registered trademark in the United States of America and all rights are reserved.JurisdictionThis Website (excluding linked sites) is controlled by ACO which is headquartered in the State of Florida, United States of America. It can be accessed from all 50 states, as well as from other countries around the world. As each of these places has laws that may differ from those of Florida, by accessing this Website both you and ACO agree that the statutes and laws of the State of Florida, without regard to conflicts of laws principles thereof, will apply to all matters arising from or relating to use of this Website. You and the American Communication Online, ACE Folklife Society, an educational professional association also agree and hereby submit to the exclusive personal jurisdiction and venue of the Superior Court of Santa Rosa County, Florida and the United States District Court for the Northern District of Florida with respect to such matters. ACO makes no representation that materials on the Website are appropriate or available for use in other locations and accessing them from territories where their contents are illegal is prohibited. Those who choose to access this Website from other locations do so on their own initiative and are responsible for compliance with local laws.Linking informationHypertext Linking. The ACO encourages and permits text links to content on The ACO website, cosmosexpo.com, provided: (a) any text-only link must clearly be marked "American Communications Online, ACE Folklife Society;" (b) the appearance, position and other aspects of either the link or the host website may not be such as to damage or dilute the goodwill associated with ACO' name and trademarks; (c) the appearance, position and other aspects of either the link or the host website may not create the false appearance that an entity other than ACO is associated with or sponsored by ACO; (d) the link, when activated by a user, must display this Website full-screen and not with a "frame" on the linked website; and (e) ACO reserves the right to revoke its consent to the link at any time in its sole discretion by amending this User Agreement.ACO is not responsible for the information or materials contained on the host website. Links to this Website are provided for convenience of reference only and are not intended as an endorsement by ACO of the organization or individual operating the host website or a warranty of any type regarding the host website or the information on the host website. Sign of loyal trusted members products and services in an alliance with Theresa J Morris, TJ Morris dba ACIR, and ACO. ACO owned and operated in the USA. Brand Logo is for our ACE and ACO Associations. A global alliance for spiritual education and history building.2019-09-03TJ Morris Agency – ACO Association – ACIR-American Culture International Relations Information for International Digital Internet Marketing advertising and public relations educational entertainment communication of information for our ACO Club
Information on the ACIR Initiative use in the digital internet we should be aware of this with TJ Morris Agency and American Communications Online.
Theresa J Morris, Agent of Service for ACO – ACIR – ACE – TJ Morris ET Radio.
HTTPS://ACOASSOCIATION.COM
HTTPS://AMERICANCOMMUNICATIONSONLINE.COM
Apply for ACIR -ACO Membership Today!
Founded in 2012, the ACIR Network Initiative is A member organization for ACO Association to engage in a Trusted Brand as ACO – ACIR companies engaged in ties relating to Business to Business, and Entrepreneurs Personalized Marketing and Advertising and Public Relations Online.
ACIR members share a common vision of strong, industry-lead self-regulation to promote shared values among our industry members and foster trust in the online marketing and advertising international ecosystem.
ACO and ACIR share the ACE Metaphysical Institute and ACO Invisible TV educational entertainment goals in spiritual educational entertainment and cosmos conscious community building with TJ Morris Agency.
Our membership consists of over small business owners, entrepreneurs, authors, artists, educators, engineers, scientists, technologists, webmasters, and companies that engage with consumers both online, as well as across mobile and television platforms to deliver relevant marketing, advertising and public relations work.
Members and companies trust our ACO – ACIR – ACE Brands in our International Marketing and Manufacturing Trade Association to help them adapt to rapidly evolving best practices and standards. ACO and ACIR with TJ Morris Agency share agencies, brands and publishers that work with ACIR members and ACO Brands have recognized the value of this commitment. If your company is evaluating membership, there are key benefits you should consider.
Many brands, agencies and publishers ask about ACIR and ACO membership before partnering with our friends who share information on their own experience's tech companies.
ACIR membership helps you demonstrate your commitment to transparent and responsible data management practices and distinguishes your company from competitors because ACIR members are known to support strong standards through our ACO Association Articles & By-Laws as we all gain access to knowledgeable experts in compliance – The ACIR – ACO – ACE compliance team has conducted reviews of companies since the inception with Theresa J Thurmond in 1978 as the original ACIR as Assured Confidential Investigative Reports for consumer services, insurance companies, and law firms. Theresa J Morris began her own new Brand for assisting in community building March 8, 2000. In its near twenty years of operation its members staff are intimately in-tune with the industry and its members' business models, how members work with each other in this space, and what constitutes best practices for the industry.
Nobody in this space can say the same, as we self-regulatory body for our own marketing, advertising, and public relations with third party advertising companies. ACIR – ACO Association volunteer staff helps members stay updated on evolving policies, best practices, and current issues through ACIR – ACO -hosted webinars, eNewsletter, the annual ACO -ACIR – Cosmos Conscious Consultants Club = Allied Command Organization a Department of American Communications Online Expo Summit, and through regular member communications, webinars, and meetings.
While ACO – ACIR volunteer agencies, consultants' staff cannot advise members on their individual legal obligations, our team of attorneys and technical advisors help member companies identify potential issues with business practices that involve the ACO Association Members e before they become significant and costly problems.
The ACIR -ACO Association takes a proactive approach in helping members identify and address potential violations.
When you become a member, the ACIR-ACO Club enhances the compliance efforts of your own internal teams and systems by providing proactive, ongoing monitoring of opt-out tool functionality, and support to help you understand and comply with the ACO Association Ethics and Articles & By-Laws.
You will be part of an organization that is helping to shape the future of Personalized Marketing, Advertising, and Public Relations in our own journalism best practices and innovation in our spiritual educational entertainment community.
The ACIR- ACO Association is the voice of ACIR-ACO – TJ Morris Agency and ACO Association International Trade Association of Brands, Agencies, the third-party advertising ecosystem in Washington D.C. and represents the industry in front of policy working groups, and at other industry events. We work with policy makers and other stakeholders to discuss and debate the most pressing issues facing this industry. We provide regular updates and information to our members so they can remain up to date on important issues. As a member, you will distinguish your company from the competition and demonstrate your commitment to brand integrity, consumer trust and responsible information management. Join the ACIR -ACO Association today.
###Theresa J Morristjmorrispublishing@gmail.comtjmorrisaco@gmail.comTJ Morris Agencyhttps://americancommunicationsonline.com
American Communications OnlineTJ Morris ET Radio Station Brand
TJ Morris Agency-Media, News, PublishingACO Association (850) 376-9100 or (850) 736-5138https://www.youtube.com/results?search_query=aco+american+communications+online
We are like minded people, truthseekers, sharing a community in cyberspace. We are independent journalists, authors, reporters, researchers share education, information, and points of view of how we share our own reality of the universe and/or universes. We recognize we are each important in the overall scheme. We share concepts of originality whether in art or word form. Allied Command Organization, ACO Association, American Communications Online, ACO Club, UFO Association share in an alliance to form a community of ufo enthusiasts, ufologists, alienologists, researchers, space advocates.
CONFIDENTIAL and PRIVILEGED. It is intended for the individual or entity named above. If you are not the intended recipient, please be notified that any use, review, distribution or copying of this email is strictly prohibited. If you have received this email by error, please delete it and notify the sender immediately. TJMorrisAgency@gmail.com Theresa J. Morris at dial (850) 376-9100 or (850) 736-5138 and destroy the original message. American Communications Online dba Psychic University –
Spiritual Consciousness · Near Death Experiences · Paranormal Investigations · Paranormal Evidence · Paranormal Research · Paranormal · Consciousness · Spirituality · Tarot Card Reading · Extraterrestrials · UFO Research and Investigations · Life After Death Experiences